Top tips and career advice from travel's most inspirational women
From championing diversity to fostering talent, the everywoman in Travel Awards winners have bold ambitions for businesswomen.
JEAN COOK
Depot administrator at Great Western Railway, winner of the Above & Beyond Award
How have you been instrumental in driving change at Great Western Railway?
I was one of the inaugural members of the first GWR Inclusion Action Group. In the first month, I was asked to represent GWR for then Speaker of the House of Commons, John Bercow, for the Bame Challenge: to raise the profile of bame professionals in the workplace and create an online portal to help employers look at how they were attracting, recruiting, developing and retaining bame individuals. At GWR I have facilitated setting up staff networks including Women in Rail, GWR Bame, Aspect (LGBQT+), GWR Christian and a new Wellbeing network tackling subjects such as mental health.
How are you championing diversity in the workplace?
By stepping outside my comfort zone and trying to be that intersectional role model. It has been an interesting, scary but enjoyable experience. Challenging certain obstacles and possible biases in people's minds, and encouraging alliances across our networks has seen a growth in awareness, whether that is around gender or mental health wellbeing.
What are the biggest challenges facing women from black and minority ethnic backgrounds in business?
For me, and from what I have heard from black friends and colleagues, sadly it's that cliche of being the best at what you do, but getting overlooked for promotion constantly, while someone with lesser "colour" and ability thrives. This can only be that in business, at certain levels "we" are not the norm, so a bias kicks in. Pushing through those barriers and bringing other women of colour with you, while educating the biased, is the way forward.
HAYLEY GODDARD
Talent acquisition manager (EMEA) at Expedia Group, winner of Tomorrow's Leader Award
What did you learn from your time at Thomas Cook?
I learnt that I enjoy being involved in transformation and change and love working at a fast pace. When the business went into compulsory liquidation, it really was the biggest test of resilience and I feel proud of how our company culture and values shone through.
What are some of the challenges young women face in business?
Confidence can be a huge challenge – to take on new projects, apply for a promotion or even submit an application for a dream role. There's so much work that has been done on diversity and inclusion to support women in the workplace, but there's still a long way to go.
How can they be overcome?
Believe in your ability and push yourself to take on challenges, like saying yes to something that scares you, such as presenting in front of a large group of people. Being self-aware and really understanding and articulating your strengths and development areas can help. I've had some very supportive and inspirational managers and mentors in my career – both male and female – and they've been instrumental in helping my confidence.
LISA HENNING
Chief operating officer at The Travel Network Group, winner of the Leader of Change Award
What does it mean to win this award?
It has been one of the major highlights of my career. In what has been an incredible year of change for the industry, it's an absolute privilege to win.
How have you been driving change at TTNG?
Since joining the company in 2013, I have been central to much of the change the company has been though. I have seen many of the female members of my team grow in confidence and ability and, as a result, achieve promotions. The reward when a colleague realises they can achieve what they want is what I thrive on.
What are the biggest challenges facing women in business?
Impostor syndrome – women have a tendency to doubt their accomplishments and self-worth. We need to stop being so hard on ourselves and believe in ourselves. We also need our male colleagues to encourage, welcome and embrace women in the workplace. It's important that we continue to push for positions on senior boards.
Power of disruption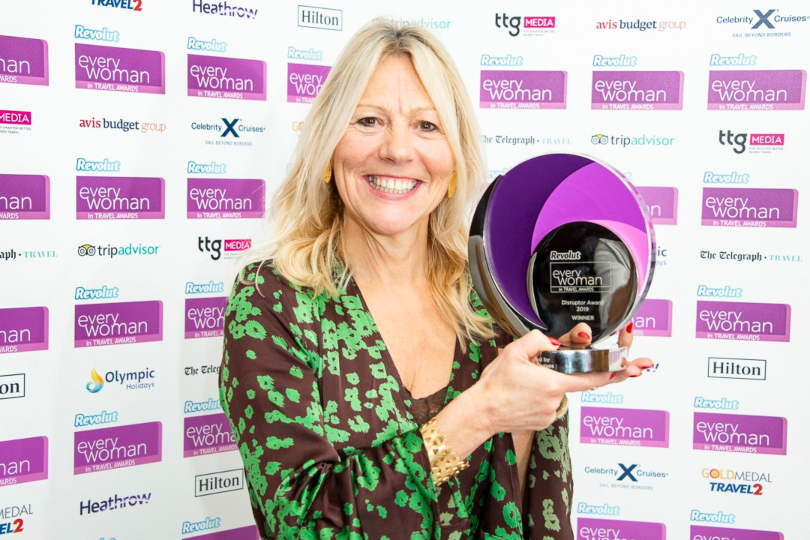 Deborah Potts, founding director of Summit Advisory, won the inaugural Disruptor Award
How are you challenging the status quo at Summit Advisory?
The world of corporate finance is all too often unnecessarily shrouded in mystery. Having worked for major travel businesses and built my own, I strongly felt that SME travel business entrepreneurs deserved better when it comes to selling their business. Disruption comes in the way we take time to understand the DNA of each travel business, and in the way we identify and assess growth options available to companies preparing for exit.
How important do you think it is to be a disruptor in today's business landscape?
I often cite [management consultant] Peter Drucker's quote: "Marketing and innovation produce results. All the rest are costs". Innovation is often disruptive. Creative thought and the courage to question conventional wisdom lie behind many of the biggest business success stories. There is little defence against innovation. All businesses should seek to stay relevant.
What's your advice to young women looking to make it in travel?
It's still a young but fast-growing industry, which needs talented people across many skill sets. Find a business to work for whose vision and ethos inspire you, and which invests in training. These tend to be growing firms. Once in, work hard, participate fully and make it clear you are keen to grow. And find a mentor.