TTG top agent Andrew Rowdon shares his tips for success
With two TTG awards under his belt and a homeworking business hitting 10 years, Andrew Rowdon has plenty to celebrate.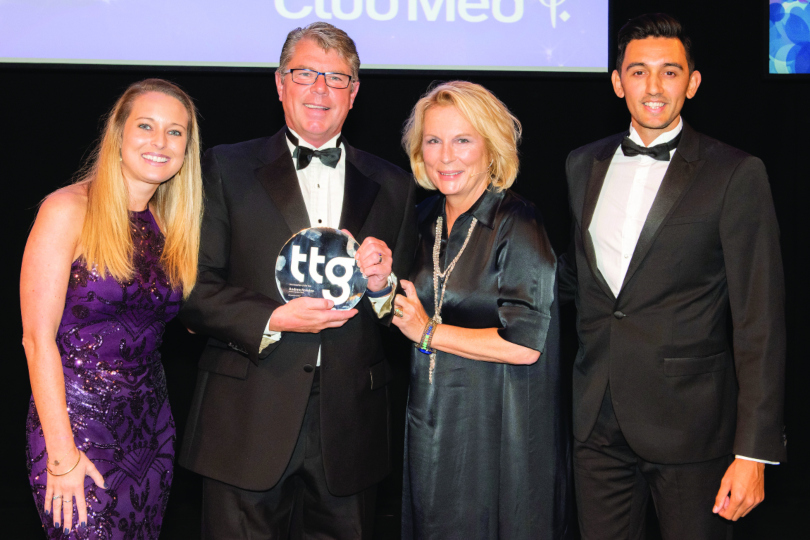 (L-R) TTG's Sophie Griffiths, Andrew Rowdon, star guest Jennifer Saunders and Club Med's Matt Stuart
Where do you go when you've reached the top of your game? For Andrew Rowdon, this year's winner of Top Agent of the Year and Homeworker of the Year at the TTG Travel Awards, the mission for self-improvement is ongoing.
"I'm constantly keeping up with the news, whether that's from trade magazines or national publications," he says. "I also make sure I regularly contact my go-to operators to keep on top of their latest product."
Rowdon believes his ability to go above and beyond for his clients helped him scoop the two trophies.
"If you don't go the extra mile then you won't stand out," he says. He advises other agents to visit clients often to forge strong relationships.
"Become their friend. Ask your clients where they've been before, what they like and don't like. Process that information and approach them with recommendations they wouldn't expect."
Rowdon believes hosting events is an effective way to build a rapport with clients too.
"I recently held a three-course dinner to celebrate the 10th anniversary of Andrew Rowdon Travel, where I invited 172 friends and clients and 20 close supplier partners. Afterwards, we received more than 60 thank you cards."
Sage advice
With the Thomas Cook collapse proving the unpredictable nature of the industry, Rowdon says agents must be proactive rather than reactive when resolving issues.
"If you see events on the news that may affect your clients, be on the ball and get in touch with them before they contact you to reassure them you are working on a solution."
For weddings and honeymoons, Rowdon's Panndorah gift list has proved a lasting success. The online platform allows couples to ask their wedding guests to purchase in-destination experiences and extras such as airport lounge passes and spa treatments for their honeymoon.
"We want to add weather updates and a holiday countdown calendar, and are planning the development of an app. It's a great tool for me to upsell the experience," he says.
Despite the challenges agents face today, Rowdon believes things are better than ever.
"Technology empowers agents. I can easily work from home or abroad and always be in contact with clients. It allows me to have flexible working hours too. It's still not easy selling travel – you have to work hard and be passionate, but I'm so lucky to be doing what I love."
Tips from the top
Rowdon offers advice for outstanding customer service.
Surprise your clients: Go beyond the brochure and recommend something unexpected and exceptional that's within their budget.
Look after them: There is nothing nicer than sending a bottle of wine at Christmas or a bouquet to say thank you for a booking. You could even arrange a complimentary lounge pass for clients. It may cost you around £25, but it's a gesture they'll remember.
Be honest: It's a simple way of earning clients' trust.