Two ways to stay in Venice
A visit to Venice is likely to be on many of your clients' wishlists. Abigail Healy tries two options: JW Marriott's offshore island and a city centre stay with Kirker Holidays.
Ever since that closing sequence of Casino Royale burst on to cinema screens in 2006, I have been fascinated by the Italian city of Venice with its watery byways and crumbly facades. So when I'm handed a slip of paper at a water taxi kiosk at Marco Polo airport and told, in what seems a covertly 007-esque manner: "Ask for Franco" it adds another layer of frisson to my excitement.
After boarding one of Franco's speedboats we zip across the Venetian lagoon, my hair whipping behind me, to the drive-in drop off at the JW Marriott Venice – where my fantasy is heightened by the porter who welcomes my husband Ollie and I to "the James Bond dock".
The resort is set on its own island, Isole delle Rose. The isle was man-made in 1870 when a Venetian port was excavated and the excess soil moved to this spot, 20 minutes by boat from the jetty for St Mark's Square – Venice's main tourist hub.
At the turn of the 20th century a sanatorium was constructed for patients suffering from tuberculosis – the air quality here being superior to that in the city. The facility operated until 1980, with the exception of a brief closure during the First World War, but then fell derelict. Eventually Marriott stepped in with architect Matteo Thun and transformed it into the serene haven it is today.
Planning required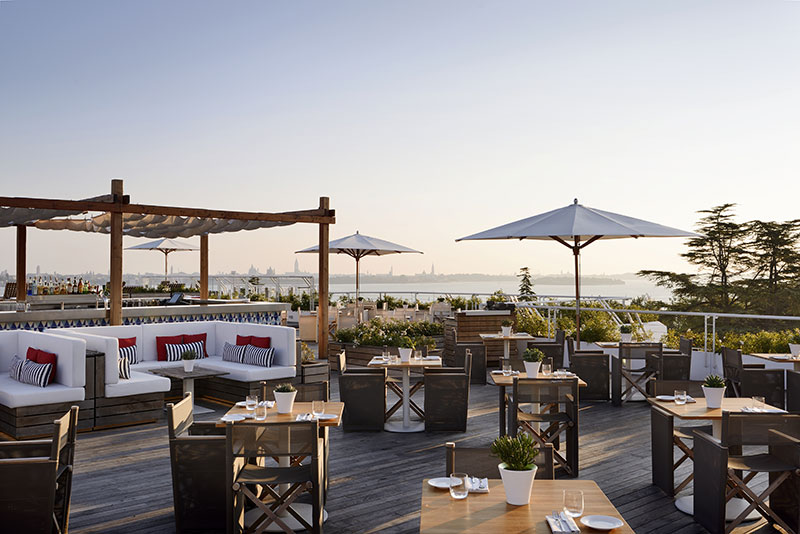 Venice is a city whose reputation precedes it and while many of the stereotypes create memorable moments when seen first hand, others are not so welcome. So it pays to plan a visit carefully.
Firstly there are a lot of tourists. Indeed Venice has been commonly cited in recent debates on overtourism.
Despite travelling out of peak season in October, we find areas around popular spots are heaving with people clamouring for their Rialto bridge selfie and postcard-perfect shot of St Mark's Basilica.
For those keen to explore all the highlights but preferring to avoid the hordes, JW Marriott is a smart choice.
With a complimentary shuttle that runs every 30 minutes to the centre of the action, guests can enjoy their fill of the sights, wander the backstreets, and sample just-caught seafood and chewy gelato before heading back to the calm surrounds of the resort. It is a particularly good option for families as the gardens, family pool area and kids' club offer plenty of space for kids to stretch out and for parents to relax. Honeymooners will also find the rooftop infinity pool with views of the city and beautifully designed spa a relaxing retreat. In addition to the main hotel building, the JW Villas offer more space for families or groups and some feature private pools with views across the lagoon.
Unusually for Venice the resort has 105 olive trees in its ground and makes its own olive oil. This is served in its Michelin-starred restaurant, Dopolavoro, where chef Federico Belluco serves up a 10-course menu incorporating ingredients from the fruitful kitchen garden.
The JW Marriott Venice also differs in style to the red velvet and ornate gold that you commonly find in the city. Sales and marketing coordinator Camilla Andreani says designer Thun wanted to reflect the lagoon in the hotel's design – breaking down the barrier between inside and out. The result is airy white spaces with pops of sea green and cool blue as well as contemporary detailing in white marble, brass and rose gold.
Central perks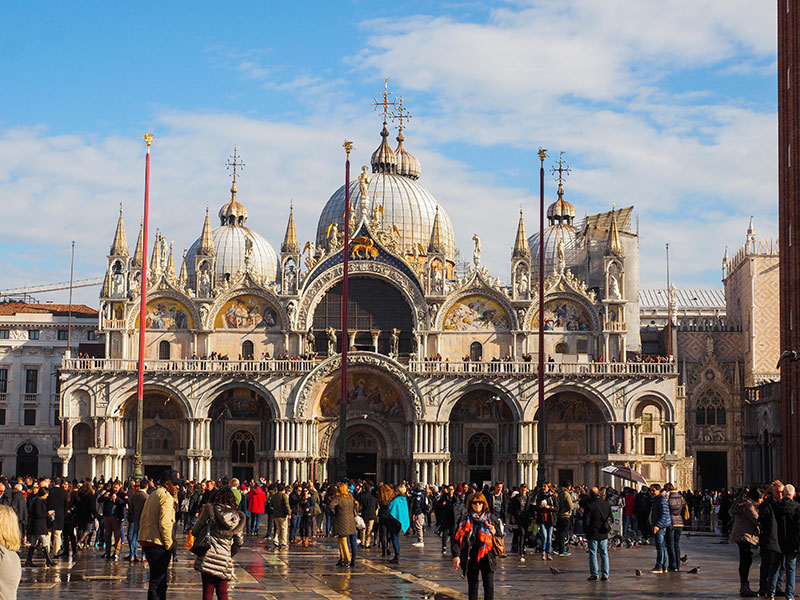 Yet for some clients the allure of a central location will be inescapable, particularly those on a whistlestop visit.
Now more than ever, an enjoyable stay is all in the planning to avoid some of those other less favourable stereotypes such as eye-watering prices and hours of queuing.
A well-located hotel makes life far easier and the canal-side Hotel Splendid, with its traditional facade and candy-striped poles marking its dock, is conveniently set between the Rialto bridge and St Mark's Square. Inside are contemporary-styled rooms and a courtyard with a retractable roof for alfresco dining on warm days.
Before setting off on our trip we had received a blue canvas wallet from Kirker Holidays containing accommodation and travel vouchers plus tickets to the Doge's Palace – one of Venice's top sights. As well as these essentials we discover a waterproof map with useful points such as restaurants and gondola embarkation points clearly marked, and Kirker notes. The operator's marketing manager Patrick Millar tells me this booklet is regularly reprinted to ensure it offers the latest information. It explains everything from what to do on arrival to how to get around and restaurant suggestions. Its helpful advice for planning visits to the main sites proves invaluable.
Our prepaid tickets to Doge's Palace allow us to stroll past the snake of waiting people and avoid the queue altogether. Here we admire the courtyard flanked by one wing dating from 1340, another from 1424 and a third, housing the Doge's apartments in ornate Renaissance style. Next we climb the stairs in the Renaissance wing where we discover a series of chambers, each host to pristinely preserved frescoes including Tintoretto's Il Paradiso – one of the largest paintings in the world. Then it's down to the dungeons where we cross the Bridge of Sighs linking the palace with its prisons – its latticed windows offering the condemned their final glimpse of freedom.
For repeat visitors who have already explored the palace, Kirker offers an alternative option to visit one of two art museums: the Guggenheim or the Accademia.
We also find the notes handy for pinpointing dining spots. There are a bewildering number of eateries in Venice and it is easy to fall into a tourist trap. Even researching online in advance does not seem as straightforward as other European cities we've visited so we are grateful for a trustworthy recommendation. Bistrot de Venise doesn't disappoint with its extensive wine list and superbly cooked dishes including seared tuna, grilled sea bass and a rich chocolate fondant.
Wonderful to wander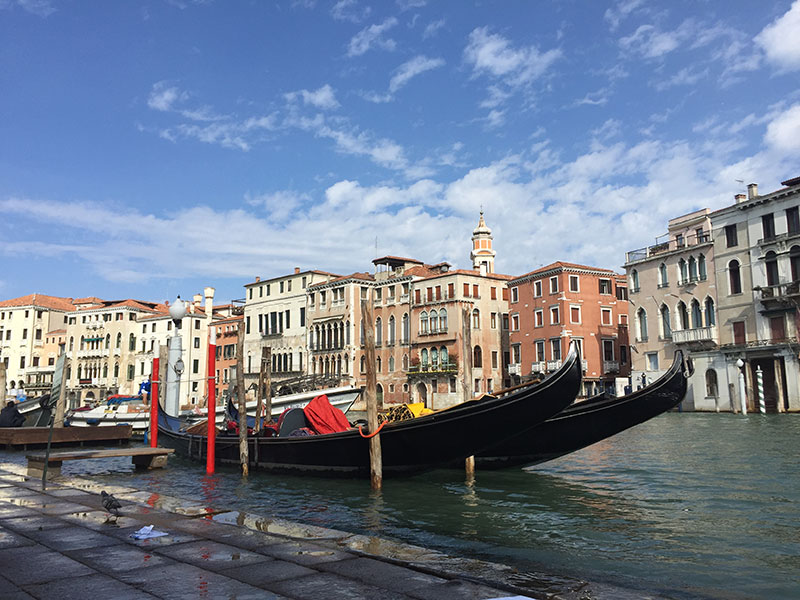 Planning aside, once the bucket list experiences have been ticked off, Venice is a wonderful place to wander without an aim. And some of our most enjoyable moments occur when we set out with no specific agenda. For example, when we happen upon a canal-side osteria with patrons ordering €2.50 glasses of prosecco and plates of cicchetti from a counter.
We plump for oozy arancini and slices of bread topped with Parma ham and truffle paste, and traditional baccala mantecato – a dried cod paste. It is all enjoyed outside, perched on a wall in whatever sunny spot we can find.
Another time we find a quieter network of streets with some of the prettiest buildings and bridges and an excellent gelateria, and on another occasion a residential area where locals are making their way home after Sunday mass. It truly is one of those places where getting a little bit lost is all part of the fun.
And of course, you can't visit Venice without mentioning gondolas. A 30-minute ride in one of the quintessential Venetian boats steered by a stripe-clad gondolier will set your clients back the princely sum of €80. Many will feel it is worth the premium and each boat will take up to six people so it can work out more reasonably for a group. However for those watching the cents, a shorter trip can be had at points along the Grand Canal where crossing from one side to the other costs just €2 each. It's another of Kirker's handy hints and when I'm slurping gelato on the other side with €78 still sitting smugly in my wallet, I'm glad we had the inside track.
Book it: Kirker Holidays has three nights' B&B at the Hotel Splendid including flights and water taxi transfers from £659pp
A one-night stay at the JW Marriott Venice starts from €395 per room.