Visiting Sun Peaks ski resort in summer
With plentiful outdoor events, British Columbia ski resort Sun Peaks is also an enticing summer destination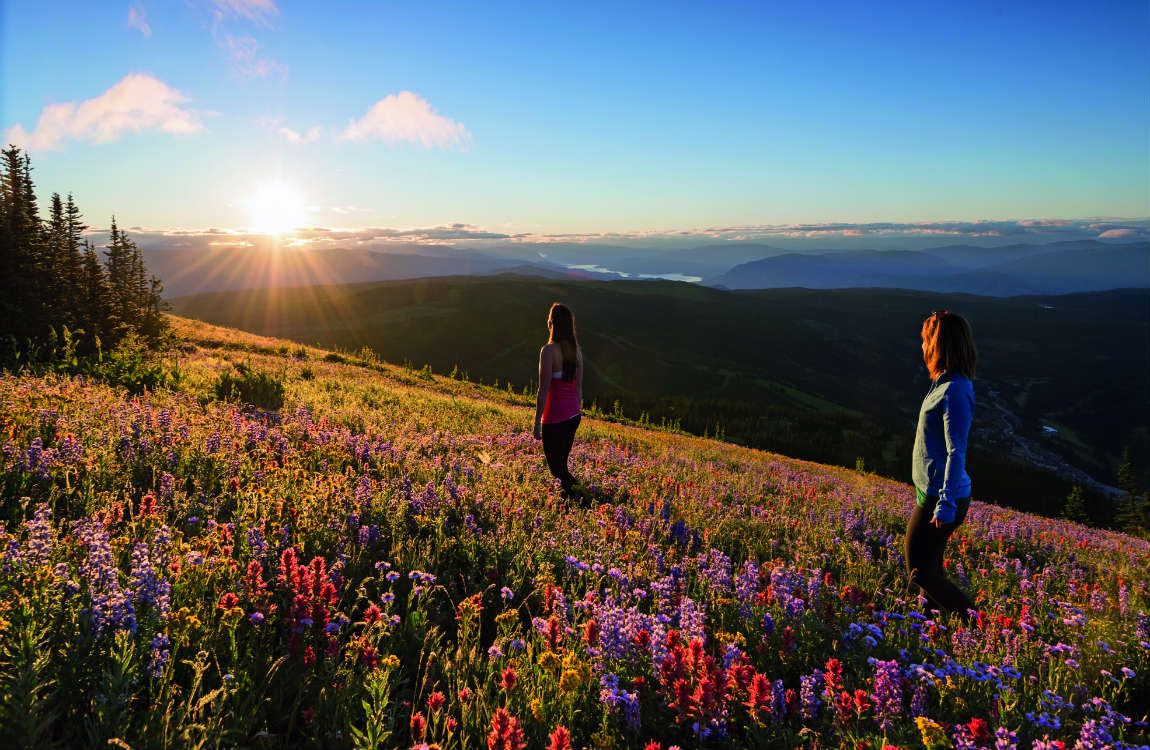 This is the state of affairs: tight chest, rapid breathing, bright red face. Have I just run a 5k? No. In fact, I'm only five minutes into a relatively easy early-morning hike. The reason I'm presenting the fitness levels of a sloth is the altitude. I'm en route to the Top of the World viewpoint, which can be found at a mighty 2,080 metres (6,800 feet) above sea level – one of the highest points on Tod Mountain.

The village in Sun Peaks, Canada's second largest ski area, is cradled in the valley below by three prominent peaks: Sundance Mountain, Mount Morrissey and my choice of terrain, Tod Mountain.
---
---
ALPINE AWE
It's not difficult to imagine the surrounding slopes awash with skiers in winter, but it is a challenge to envisage Sun Peaks looking any more beautiful than it does right now. I'm visiting in July to see what the resort has to offer guests outside of ski season, so my trip coincides with the bloom of British Columbia's wildflowers; and what a treat that is. Lipstick-red Indian paintbrush, mauve mountain aster and Arctic lupine cover Tod like a thick, sweet-smelling blanket. Ground squirrels and marmots dash and dive between the flora and, as I enter a dense patch of pine trees, a chipmunk appears on the branch beside me, gives me a quizzical look and then moves on. Clearly he has somewhere to be – and so have I.

I take the Sunburst Express chairlift back down the mountain to Sun Peaks Stables, where I'm paired up with a stunning grey steed named Tootabelle. Together we take a mixture of hiking and skiing trails along the slopes, passing trickling tributaries and tree stumps stripped back by black bears in search of bugs and berries.
LAKE DISTRICT
The hack feels refreshingly rustic, so sets me up well for an evening with the Northwest Voyageur Company. McGillivray Lake is the site the operator uses to show travellers what life was like for fur traders in Canada during the 18th century. Only accessible via a dirt track and with no mobile phone service, it feels like there isn't another soul for miles – the only sign of human existence is a wooden hut and an axe left behind by campers. It's inside this hut that I experience my first taste of bannock bread with tomato and black bean soup, the first course in a menu inspired by the fur traders' diet, designed to satiate and sustain. To follow is slow-cooked pork belly rubbed with maple whisky BBQ sauce, salmon and roasted root vegetables, and a quadruple berry compote with shortbread cookie, which goes down a treat after an hour's canoeing on the lake.
While a sunset canoe trip is a brilliant way to experience British Columbia, nothing beats the closeness you can get from stand-up paddle-boarding, as I discover during my time on Heffley Lake with Paddle Surfit. On the shoreline, I get a glimpse into Canada's true wilderness, where eagles nest in the trees and a dilapidated summer camp has been taken over by nature. On the lake's surface, families of turtles perch on floating logs to bathe in the warm sunshine. I move in for a closer look and, after the ripples from my board reach them, each turtle plops one by one into the depths of the lake. An odd cry leads me into the next bay, where I find two loons floating alongside each other, their black-and-white spotted bodies and dark collars standing out against the iridescent green water. In between their piercing calls, the silence is palpable.
Stars of the show
Smarter, better, fairer
Smarter: When your clients are exploring the mountain slopes, advise them to carry a whistle in case they come across one of the resident black bears.

Better: To get off the beaten track, suggest driving 10 minutes to Whitecroft, a village made up 
of only a handful of houses. From here, hikers can take a 1.3-mile trail to Whitecroft Falls, also known as McGillivray Creek Waterfall.

Fairer: Sun Peaks was the first ski resort in North America to earn the ISO 14001 certification, which means its environmental management meets international industry standards. It remains one of only three to have this status, alongside Aspen Snowmass in Colorado and Jackson Hole in Wyoming.
The peacefulness of Heffley Lake – even though only a 15-minute drive from Sun Peaks – feels like a distant memory on my return to the village. The slopes are packed with tourists and locals alike, all waiting for Serena Ryder, a Canadian musician taking part in an outdoor concert this evening.

I sit next to Colin Brost, director of market development at Sun Peaks, for the show. He 
tells me that Sun Peaks is a more affordable alternative to the likes of Jasper or Whistler, as it's considered harder to reach. "Sun Peaks is considered somewhat off the beaten track, yet it's easily accessible to any itinerary travelling between Jasper or Banff and Vancouver. Summer is also a more affordable time to visit. Average nightly 'starting from' rates in summer are $125, compared to about $249 in winter."

He also tells me the story of the first free concert Sun Peaks held here in 2012: Kevin Costner was performing on stage when suddenly the crowd's attention swivelled to the mountainside. Then Costner, trying to regain the spotlight, looked up to see a black bear crossing the ski path above the audience – minding his or her own business.

I can't help but turn around to check for unexpected grizzly guests, but alas, this evening it's just me, the concert crowds and the mountains.

BOOK IT: Canadian Affair offers a seven-night Sun Peaks & Vancouver Stay from £902pp, including flights to Vancouver, two nights' accommodation in Vancouver, five in Sun Peaks and six days' car hire with fully-inclusive insurance. Price is based on June 2020 departure.
• agents.canadianaffair.com
For more information visit:
• sunpeaksresort.com/travel-trade
Essential information
Getting there: After landing in Vancouver or Calgary, visitors can catch a connecting flight to Kamloops (taking 45 minutes and
 1 hour 15 minutes respectively). From there, Sun Peaks is a scenic 45-minute drive.
When to visit: Mid-July to mid-August is best for a summer break, when the wildflowers come into bloom.

Summer activities: Sun Peaks also offers a Graham Cooke-designed golf course, Segway tours, mountain biking and more. Lift passes: A full day's summer hiking/sightseeing lift pass costs $23 for adults, $18 for seniors and youths and $14 for children. Kids aged five and under go free.