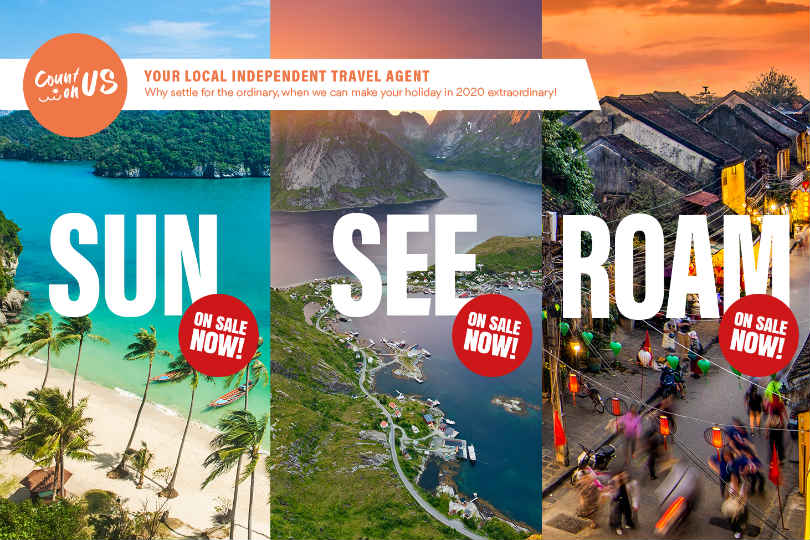 Advantage's Sun See Roam peaks campaign
The consortium's Sun, See, Roam campaign moves away from a single "hero" marketing image and instead uses three different images, including beach holidays, cruising, city breaks and touring, to highlight the wide range of holidays available to book with Advantage members.

It will run alongside Advantage's "Count on Us" consumer message, which is "intended to strike an emotive chord with customers and encourage confidence to book with your local travel agent" following a momentous year for the travel industry which saw the demise of Thomas Cook.

David Forder, head of marketing at Advantage Travel Partnership, said: "January peaks are inevitably a noisy period in terms of campaigns, with travel businesses and operators vying to capture their share of the market.

"Our intention is to break through the clutter with a different take on the norm, using strong imagery and a simple yet impactful message.

"The turn-of-year campaign is bigger and better than any other campaign we've created for members, who will have access to a varied and comprehensive selection of assets to use across multiple channels to help them grow their businesses in 2020."

Campaign assets for agents include a suite of digital and social banners, point-of-sale posters, imagery, how-to guides and tips for how members can "pull a budget-busting campaign out of the bag".

All assets will be housed in a dedicated hub on the Advantage members' extranet, while webinars will be held to highlight the campaign and help members to best use it to increase sales.