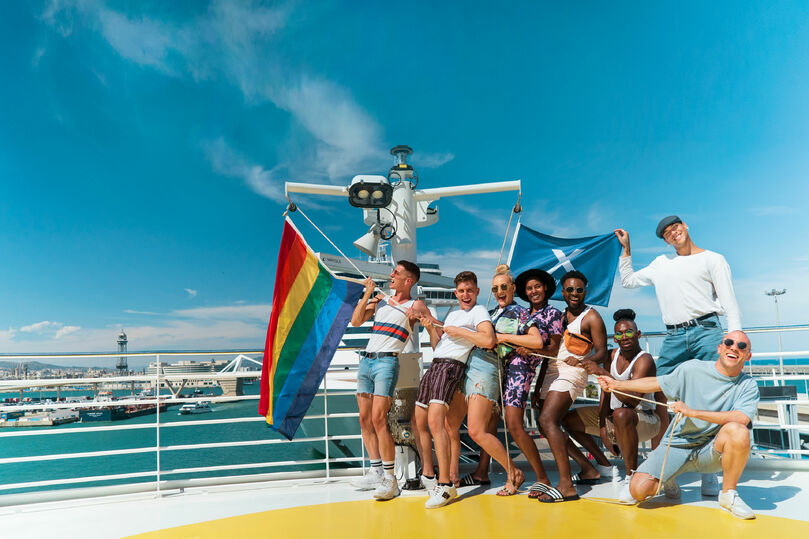 Four pairs of new-to-cruise influencers were selected to participate in the series
Set onboard Celebrity Edge, a new episode of the show Trailblazers will be released daily on the cruise line's and LGBT+ media company's social channels from 30 September until 4 October.
Celebrity said each programme would aim to "shine a light on queer travel", with voices of key representatives from the LGBT+ community and reflect a range of influencers from different backgrounds onboard Edge as it docks in some of Europe's most famous ports.
Four pairs of new-to-cruise influencers were selected to participate in the series with each of the duos' passions and experiences chosen to reflect a different aspect of the LGBT+ community.
The series sets sail to key LGBT+ European destinations including Barcelona, Valencia, Ibiza, Nice and Rome, and culminates in the influencers' participation in the third annual Pride at Sea onboard Edge.
Celebrity annually hosts Pride at Sea – an initiative set up to celebrate Pride month across its fleet around the globe.
June 2020 will see Celebrity's fourth annual Pride Party at Sea, with each ship in the fleet hosting a range of exciting events and activities throughout the "30 days of Pride".
Celebrity Apex, launching in Southampton April 2020, will host the Flagship Pride at Sea Party when docked in Ibiza on 24 June next year.
Last year the line, the first US company to host same-sex weddings at sea, launched a dedicated Diversity & Inclusion training module for agents on its e-learning platform, Celebrity Passport.
Travel consultants can log on to Celebritycentral.co.uk to access the updated LGBT toolkit collection with images, flyers and logos.
Celebrity is the current headline sponsor of the TTG LGBT initiative, and Jo Rzymowska, its managing director, UK, Ireland and Asia Pacific, was also named a Top 10 LGBT+ Inspirational Leader at the British LGBT Awards in 2017.
Rzymowska said: "We were thrilled to welcome the cast of Trailblazers onboard Celebrity Edge, which we hope has positively shaped their perception of travelling as members of the LGBT+ community.
"We want everyone onboard our ships to feel appreciated and welcome, whoever they are, and am therefore delighted to launch this industry-leading content in partnership with Gay Times."
Gay Times chief executive Tag Warner added: "Through our trailblazing partnership with Celebrity Cruises, we're thrilled to share our exploration of queer travel experience onboard Celebrity Edge.
"This industry-leading collaboration has set the scene for a unique LGBT+ travel experience – an onboard community of like-minded people, thriving in a young, free and dynamic environment, a safe space for self-expression set against the perfect Mediterranean backdrop."