Heartwarming moment Tui pilot welcomes own grandparents onboard
Laura was on hand to greet Pat, 79, and Ray, 83, as they boarded their Tui flight to Palma at East Midlands airport last month, without a clue it would be Laura at the controls.

Both Pat and Ray have long encouraged Laura to pursue a career in aviation after her very first flying lesson in a simulator, which she received as an 18th birthday present.

She is one of Tui's youngest pilots and is close to achieving the new step in her career of becoming a first officer.

Laura, said Tui, got her grandparents' holiday off to a dream start with the "special moment they've been longing for since she started flying".

Pat and Ray have been holidaying at Grupotel Playa Camp de Mar in Palma twice a year for the past seven years, and are well known to the team at the hotel.
'It was such a special moment'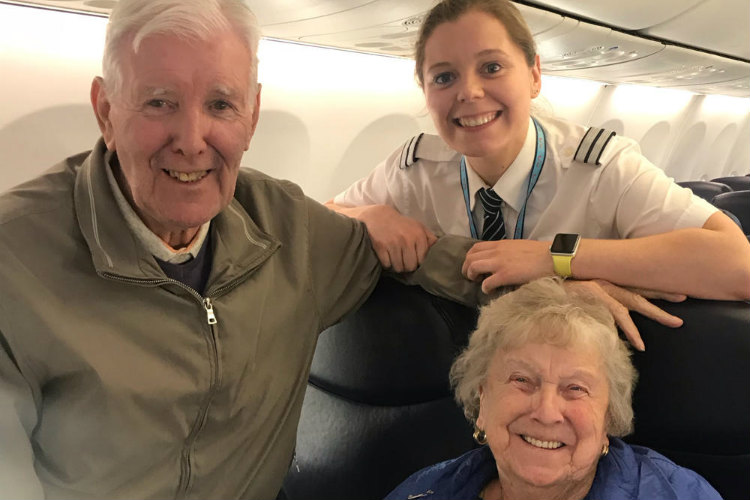 It was Laura's parents' idea to put the surprise together, combining her grandparents' favourite holiday getaway with the opportunity to see first-hand their granddaughter excelling in her dream job.

Laura said her grandparents had been "living and breathing their proud grandparent moments" since she started flying.

She moved to Tui in November last year, which has been able to accommodate her grandparents' mobility requirements and facilitate the surprise.

"We are unbelievably proud of Laura's career as a pilot," said Pat and Ray, while Laura added: "My granny didn't even recognise me at first.
"She was very polite when she said hello, then realised it was me and gave me a huge hug. It was such a special moment."