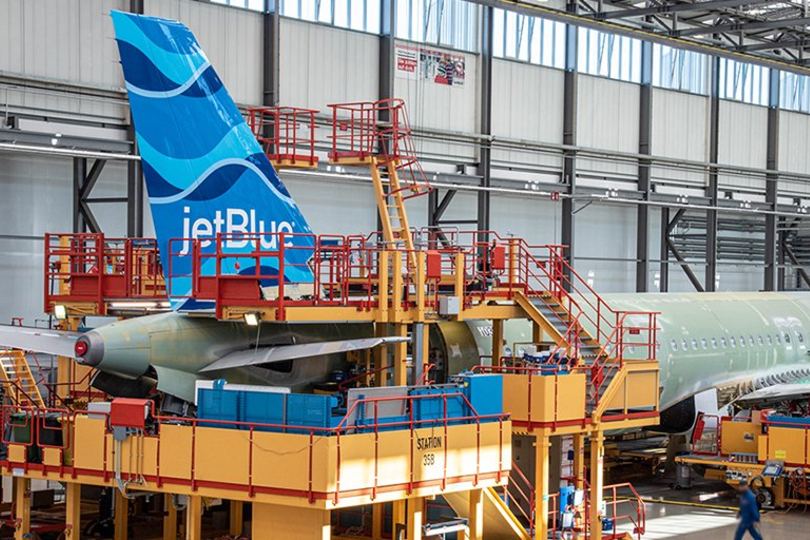 Aircraft to be used on JetBlue's UK services are currently being built by Airbus (Credit: @JetBlue/Twitter)
UK Aviation News reports the carrier has secured slots at normally congested Heathrow, which is currently operating at 15-20% capacity.
Speaking at last week's World Aviation Festival, Joanna Geraghty, JetBlue's president and chief operating officer, declined to specify which London airport was chosen for the JFK and Boston services, but said plans were pushing ahead for flights to start in 2021 despite Covid.
"The pandemic does present opportunities… we see London as one of those opportunities," Geraghty said. "We will be launching back half of the year."
JetBlue will use new narrow-body Airbus A321 aircraft fitted with the latest version of its Mint business cabin.
Geraghty added: "We have not announced the city yet; we haven't shown our new Mint product yet, which I think will get people very excited."
She said JetBlue would have an advantage over established competitors in the post-pandemic environment.
"We think will we will be well-positioned for it, it's a narrow-body aircraft, so it speaks to our customers that want to pay a fair fare.
"I think the prospects of putting wide bodies on the North Atlantic is going to be challenging because that's a lot of seats to fill. That said, we are preparing for vigorous competition."
JetBlue also last week debuted a new tailfin design for its transatlantic routes.
"Colour us excited! The rollout of our London service next year just got real with this sneak peek at our first new pond-hopping A321LR. The tailfin pattern is aptly named Streamers – as in jetstream and as in let's jet the party started!"