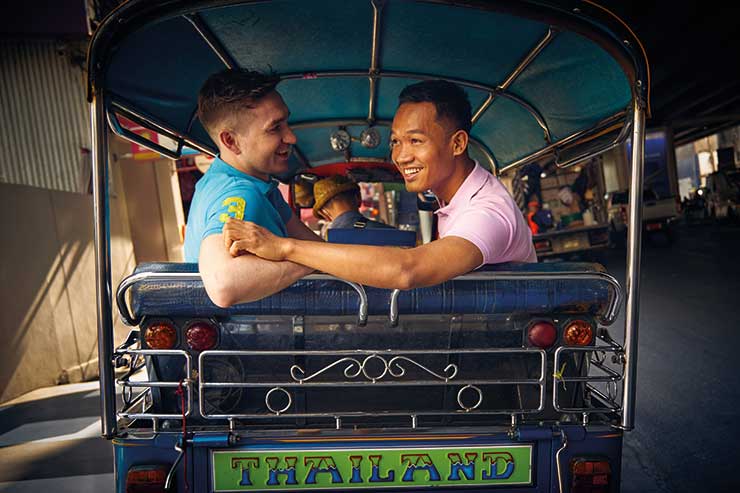 Thailand, tuk tuk and male couple
The Tourism Authority of Thailand (TAT) has worked with LGBT travel publication OutThere to develop gothaibefree.com

"The website features new imagery and videos showcasing experiential and luxury travel across Thailand," OutThere editor-in-chief Uwern Jong told TTG, adding: "It features real couples of different demographics, genders and ethnicities from the US, UK, Australia and the Philippines."

A launch video has gone live with four more to be added. A two-minute brand video launched on Facebook and YouTube late last month has achieved nearly 100,000 views.

"The website acts as an online inspiration portal for LGBT travellers interested in Thailand," said Jong.

"It features fresh stories each week covering the country's vast geography, as well as urging visitors to 'Discover your Thailand', providing ideas for those with specific interests."

The new site also includes a dedicated hotels and resorts section featuring LGBT-welcoming properties that have been "screened" by the Go Thai Be Free team to ensure they have "demonstrated their commitment to the LGBT community through training, marketing and operational diversity".

Chris Lee, TAT head of marketing, said: "Welcoming the LGBT market to Thailand is not just a strategy, it is part of the country's culture of embracing everyone, irrespective of orientation.

"The Go Thai Be Free website delivers new, fresh and engaging LGBT content, which agents will be able to use to promote Thailand."

Last year, Lee led a delegation of LGBT specialist – and mainstream – travel agents to the LGBT+ Travel Symposium in Bangkok, the first-ever in south-east Asia. This was followed by an LGBT+ fam, on which agents could sample the product themselves.

TAT London will hold a second symposium in 2019, and there will be opportunities during the year for the travel trade to interact with the new campaign, with new tools it can use to promote its LGBT credentials.

The website will also include information on vetted LGBT+ hotels, resorts and experiences.