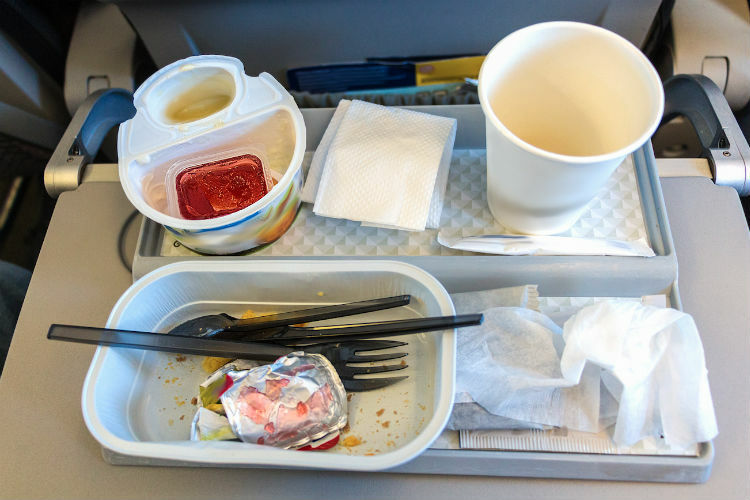 iStock-912341146 Cutlery Airline Plastic.jpg
QF739 from Sydney to Adelaide normally generates 34kg of waste, but every item used will be composted, recycled or reused. The flight was part of a plan to remove 100 million single-use plastics by the end of 2020 and eliminate 75% of the airline's waste by the end of 2021.
Qantas Domestic chief executive Andrew David said the trial flight was an important milestone for the carrier's plan to slash waste: "In the process of carrying over 50 million people every year, Qantas and Jetstar currently produce an amount of waste equivalent to 80 fully-laden Boeing 747 jumbo jets," he said.
"We want to give customers the same level of service they currently enjoy, but without the amount of waste that comes with it."
The 1,000 single-use plastic items, including individually packaged servings of milk and Vegemite, were substituted with sustainable alternatives or removed altogether from the flight. Alternatives included meal containers made from sugar cane and cutlery made from crop starch, all fully compostable. Paper boarding passes and tags were also recycled.
In its effort to remove the 100 million plastic items used every year by the end of 2020, Qantas and Jetstar will replace 45 million plastic cups, 30 million cutlery sets, 21 million coffee cups and 4 million headrest covers with sustainable alternatives.
The zero waste flight was also 100% carbon offset. Qantas says it operates the largest carbon offset scheme in the aviation industry, with a passenger offsetting their flight every minute.
From mid-2019, customers will earn 10 Qantas Points for every dollar spent offsetting their travel from Australia, the highest standard earn rate of any frequent flyer initiative.
Last year, Qantas operated the first biofuel flight between Australia and the US using biofuel processed from mustard seed, and in 2012 Qantas and Jetstar operated Australia's first biofuel trial flights.