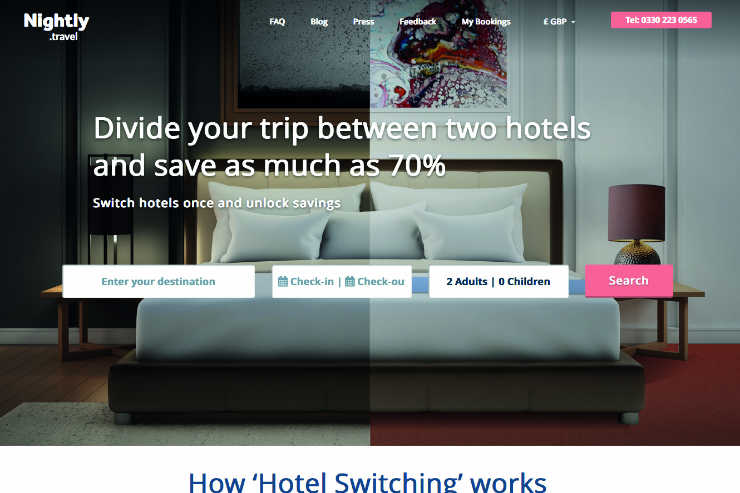 Nightly Travel Screen shot .jpg
What is the ethos of Nightly.travel?
I co-founded Nightly.travel with Santiago Navarro in 2017 after we met at a food technology event. We wanted to make it possible to stay in five-star hotels at three-star prices. For example, if you were to book four nights using a regular hotel booking platform, it would give the client a price for those nights regardless of variation in nightly rates. We might place the user in that same hotel for two nights but, should that hotel have a spike in its nightly rate due to hosting a conference, for example, it would suggest moving to a different property for the remainder of the stay, saving the customer money overall.
Are there other benefits of splitting a hotel stay in one city?
Nightly.travel is also about encouraging customers to explore more. For example, in London, clients could spend a few nights in Shoreditch then a few nights in High Street Kensington. That way they get the best of both worlds.
How does it work?
A complicated algorithm running in the back end of the site looks at pockets of availability that we can tap into. It finds lower cost room rates in one hotel then combines it with room rates at other hotels in the same city to come up with the lowest priced combination.
We also pull in TripAdvisor reviews and TrustYou ratings to make sure the standards are similar between the hotels. We tend to only feature three- to five-star properties, and users can also book multiple room types in them. For example, spending a few nights in a cheaper room then moving to a suite at the second hotel. At the time of booking, customers will be notified when the hotel switch will occur and it's possible to book traditional hotel stays too.
What are the benefits of using Nightly.travel?
Users can save up to 70% depending on the city they stay in. People in the travel industry take it as a given that you will not pay the same rate for each night. For instance, rates can spike when demand increases due to a popular festival taking place or a business conference coming to town.
Can users split a stay between more than two hotels?
No, they can't. The biggest savings only happen with the first switch between hotels. After that, the added benefits will decrease.
Why spread clients across different areas of a city?
Overtourism. So many cities in Europe such as Barcelona, Amsterdam and even London are suffering from it. If you can build a product that inspires people to visit various parts of the city, then that's a powerful thing.
How many hotels are featured on the site?
We have more than 75,000 in 180 countries, and we're looking to expand to offer about 300,000 properties. We're currently tapping into Hotelbeds' room stock, which is acting as our supplier.
Are you working with the trade?
We work in a B2C model at the moment, taking bookings direct from consumers on our site, but we are open to working with travel agencies on a commission model basis. We have engaged with a few businesses to trial the concept.
Is Nightly.travel mobile friendly?
Yes, definitely. It's so important that people can book on the go. We are also developing a native downloadable application too.
Who is the target audience?
We are reaching out to value seekers - males and females aged 25-34, although we've seen take-up from companies using Nighly.travel to save money during business trips.
Are there any new features in the pipeline?
We are working on developing a partnership with ride-sharing services such as Uber and Lyft to start transferring clients and their luggage.