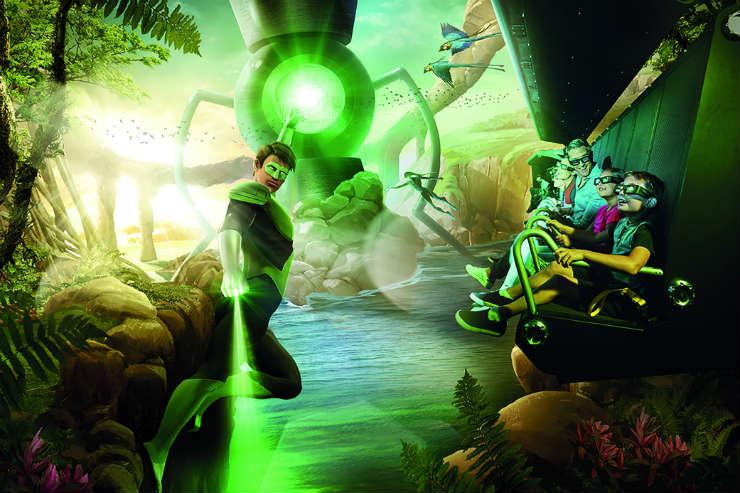 Green Lantern Galactic Odyssey
I'm going to save the world. I won't be doing it alone – there's a group of men, women and children sitting alongside me, ready to do what it takes to save our planet.
DC Comics superhero the Green Lantern has enlisted us all after a rousing speech and now we're off, soaring through space and fighting various bad guys along the way.
The Galactic Odyssey simulator ride at Warner Bros. World Abu Dhabi is a 4D extravaganza – the floor falls away, so you really feel as though you're whizzing through outer space, and as we fly past a waterfall, we feel its spray.
A field of flowers we soar across smells wonderful; an angry dragon who breathes all over us, less so. It's a full-on sensory experience and it's one that has us all shrieking and in fits of giggles as we swerve our way past stars, meteors and villains to complete our mission.
Galactic Odyssey is my favourite of 29 rides and interactive, family- friendly attractions at Warner Bros. World Abu Dhabi – a billion-dollar, 1.65-million-square-foot indoor theme park that opened on Abu Dhabi's "entertainment destination", Yas Island, last July.
The theme park is the third to open on Yas Island in eight years and the island is also home to Ferrari World Abu Dhabi and Yas Waterworld.
Young at heart
Having grown up watching Tom try to outsmart Jerry, Batman zooming about in his Batmobile and The Flintstones having a yabba-dabba-doo time in Bedrock, a trip to Warner Bros. World Abu Dhabi fills me with nostalgia, plunging me back into a fun-filled childhood world where my TV and comic book heroes have come to life.
Warner Bros. World is made up of six immersive lands: DC Entertainment's Metropolis and Gotham City, as well as Warner Bros. Animation's Cartoon Junction, Bedrock, Dynamite Gulch and Warner Bros. Plaza.
Each is expertly designed to make you feel as though you've jumped straight into your favourite cartoon or comic book – with painted ceilings and walls, themed restaurants and shops selling one-off Warner Bros. merchandise and, of course, your favourite characters causing mischief and merriment wherever they go.
I begin the journey back into my childhood at the Art Deco-designed Warner Bros. Plaza, whose streets, shops and bright lights evoke Hollywood's Golden Age. Here, stepping through shop fronts allows you to access the park's different lands.
The plaza is also where clients can catch the All-Star Spectacular, a show hosted by Bugs Bunny himself, during which the ceilings and walls turn into giant screens that bring the Warner Bros. stories to life. The show takes place three times a day, including at 10am, one hour before the different lands open to the public. (The park opens from 10am to 8pm every day).