Millennium gets modern update with launch of millennial brand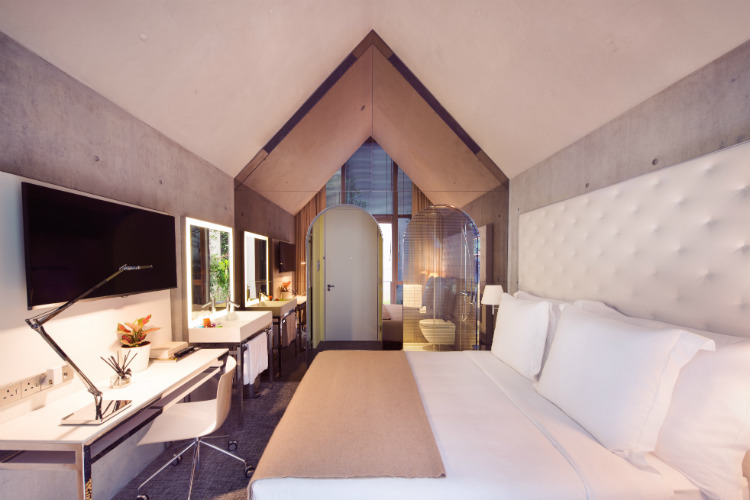 The hotel opened in Singapore this week under the group's new brand, M Social – designed with millennial travellers in mind - and is located on the Singapore River overlooking the Robertson Quay enclave.

The hotel has 293 rooms, a restaurant and bar and rooftop pool and is the first in Singapore to offer a self-check-in kiosk. Other tech touches include a complimentary smartphone in every room, providing guests with unlimited data and local and international calls, as well as a preloaded city guide.

Starck said he designed the hotel using a "democratic design" concept, where spaces around the hotel are designed to be "accessible and flexible to guests' needs". They have all been designed with customised art and design elements and the front of house team wear clothes designed by Japanese brand Uniqlo.

The hotel's room types are self-explanatory: The Nice Room, The Nicer Room, The Big Room and The Bigger Room - The Nicer Room and duplex-style Bigger Room feature private terraces.

M Social Singapore claims to be "more than a hotel" and has put together a committee of opinion leaders, responsible for the digital guide to attractions that will appeal to millennial travellers.

Personalities such as Lim Sek, chief executive of Music & Movement, Timothy Go, founder of Tech360.TV and TV presenter, and Singaporean band The Sam Willows will also contribute to ideas for the I M Social series of events.

Paul James, senior vice president of global marketing and branding for Millennium Hotels & Resorts, said: "We're delighted to be launching M Social in Singapore, it's great for the millennial market and reflects our departure into lifestyle hotels. As the first hotel for the new brand and with plans to expand in Asia and beyond, it's a really exciting time for us."

The company is planning to expand the M Social brand to Auckland in New Zealand and then Seoul, South Korea, over the next two years with Starck also set to design the interiors of these properties.

Millennium Hotels & Resorts now owns, manages or operates a portfolio of 125 hotels across its eight global brands – Grand Millennium, Millennium, Grand Copthorne, Copthorne, M Hotel, M Social, Studio M and Kingsgate.