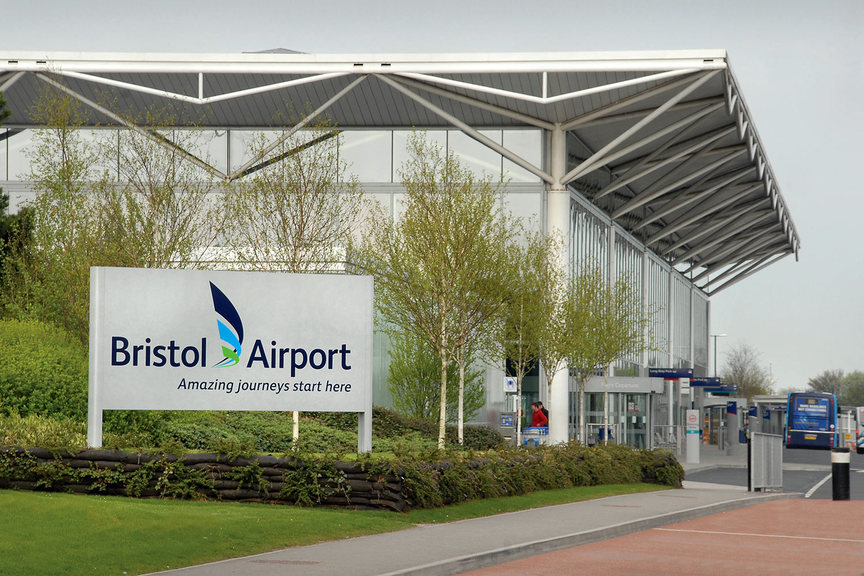 Bristol airport was 'disappointed' by the decision
A scheme to enlarge Bristol airport terminal and taxiway and add 3,000 car parking spaces was rejected 18-7 by North Somerset councillors following concerns about the wider environmental impact.
The Guardian reports council leader Don Davies saying the decision could be reconsidered "when the airline industry has decarbonised and the public transport links to the airport are far stronger".
Before the council meeting, Extinction Rebellion held a three-day protest, with activists symbolically burying their heads in the sand on a nearby beach.

Councillors went against planning officers' recommendations, meaning the decision will have to be ratified and is open to appeal by the airport.
Bristol airport said: "We are disappointed by the decision of North Somerset Council's planning and regulatory committee to recommend refusal of our planning application to increase Bristol airport's capacity from 10 to 12 million passengers a year, contrary to the recommendation of the council's own planning officers.
"This decision risks putting the brakes on the region's economy by turning away airlines who want to serve the South West market, shutting the door to international trade and tourism at a time when the UK needs to show it is open for business.
"By preventing Bristol airport from meeting demand for air travel from within the region it serves, the council will simply exacerbate the situation which already sees millions of passengers a year from our region drive to London airports in order to fly, creating carbon emissions and congestion in the process.
Hours after the decision, Heathrow airport warned it will fall behind Paris if not allowed to expand. Heathrow claims Charles de Gaulle "is growing at twice the rate" and "set to overtake as Europe's leading hub airport within the next two years".
Heathrow chief executive John Holland-Kaye said: "If we are to be a truly global Britain, we need to be better connected to global markets than our rivals in Europe. It would be an economic disaster for the country to fall behind, just as we leave the EU."