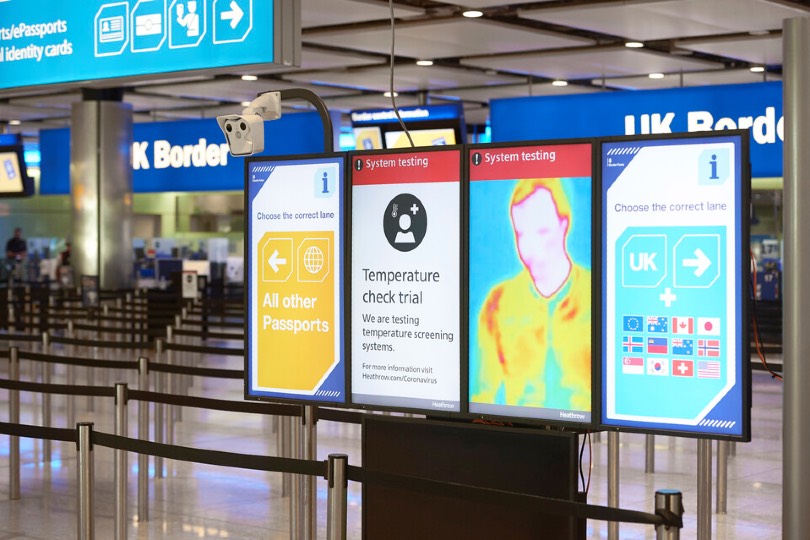 Heathrow's thermal screening system is being tested in Terminal 2's immigration hall
The airport began testing the equipment in Terminal 2's immigration hall on Thursday (21 May) to detect any passengers arriving with a high temperature.
The system uses cameras to monitor the temperatures of multiple people moving through the airport, with signs informing passengers about the trial.
Although the airport stressed passengers will see "no visible change" to the arrivals process, adding that no personal data will be stored or shared during the trial.
If the trial goes well, the screening system could be rolled out to other areas of the airport, including departures.
Thermal screening is one of a range of initiatives Heathrow is introducing to prevent the spread of Covid-19 through air travel.
All staff at the airport are already wearing face coverings and are also handing them out to any passengers who do not already have some kind of mask.
Heathrow has installed more than 600 hand sanitiser stations, as well as introducing enhanced cleaning, prominent signage and Perspex barriers at contact points.
It is also looking at using UV sanitation to improve the cleaning of security trays and "contact-free" security screening equipment to ensure social distancing between people.
John Holland-Kaye, Heathrow's chief executive, called for a "common international standard" for health screening at airports to be agreed.
"To unlock the full benefits of aviation for the economy, a common international standard for health screening must be agreed by the global authorities - and the technology we are trialling now could be a part of this solution," he added.
"The UK should take a lead in setting a global plan to reopen borders when it is safe to do so. This will help protect millions of British jobs that rely on aviation, but are currently at risk."