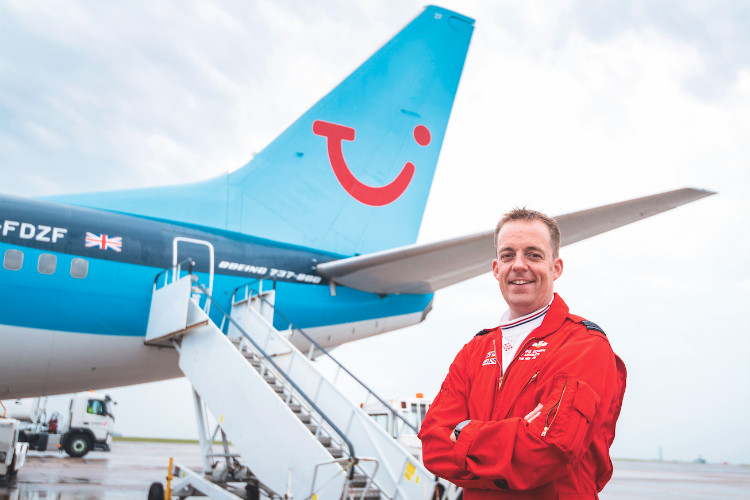 Tui Mike Bowden Red Arrows Web.jpg
Bowden has been released from his duties with Tui to stand in for Red 3, who was injured playing football ahead of the summer flying season.

The 38-year-old entered the RAF in 2002 and completed four seasons with the Red Arrows before joining Tui as a first officer last October.

His assistance will allow the Red Arrows to continue with its busy summer schedule, which includes the squadron's biggest North American tour to date, ahead of which it would have been difficult to train a new pilot in time.

According to Tui, it is the first time an airline has released a pilot to rejoin the Red Arrows.

Since joining Tui Airways, Bowden has flown Boeing 737 aircraft on a range of short- and mid-haul routes from the airline's Cardiff base.

This summer, though, he will trade his commercial airliner for one of the Red Arrows' Hawk T1 jets, capable of speeds in excess of 600mph and pulling positive and negative G-forces several times that experienced on the ground.

Dawn Wilson, managing director of Tui Airways, said: "The talent and skill of the Red Arrows is outstanding and we know their breathtaking displays are helping inspire the next generation of pilots.

"Tui Airways is lucky to have Mike as part of our flight crew team, and I know our team in Cardiff are looking forward to welcoming him back and hearing the stories of his summer adventures."

Bowden added that although it was an "unexpected return" to the Red Arrows, it was always a privilege to represent the UK at home and overseas to "inspire people of all ages and backgrounds".

"I'm extremely grateful to all those colleagues at Tui Airways who have been so supportive and allowed my temporary return to the Red Arrows for the 2019 display season."