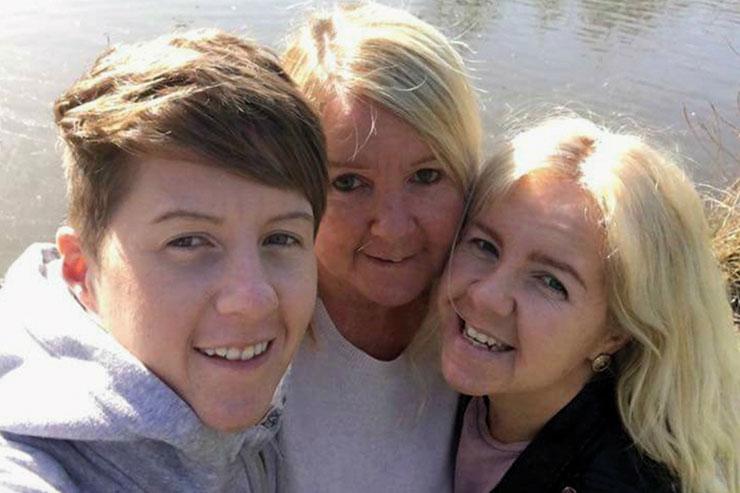 Cassie Hayes (Left) Tracy Hayes (Centre) Nadine Hayes (Right)
About 60 relatives, friends and colleagues took part in a charity walk in the Northumberland town of Alnwick to mark the anniversary of the 28-year-old's death at the hands of Andrew Burke, an ex-partner of her girlfriend Laura Williams, on January 13, 2018.
Nadine Hayes and mother Tracy organised the event on January 5 to remember Cassie and raise money for Victim Support and Abta LifeLine, which helped the family "through the worst thing you can imagine" during the past 12 months. The latter helped to fund Cassie's funeral and a celebration of her life.
Nadine told TTG the family wanted to show their gratitude to the organisations, Tui and the wider travel industry.
"Tui helped us every step of the way and were always there for us. They were amazing when the store was reopened."
An industry fundraising campaign for Cassie's family under the banner #Agentsunited reached more than £7,000 - its original target was £1,000.
"That money was so important and helped handle a lot of expenses. It helped take a real weight off us all and meant we didn't have to worry.
"I knew she was valued at work, but the whole industry was just amazing. We want to keep doing this every year and keep Cassie's memory going in a positive way," she said.
Two members of Cassie's Southport store team and regional sales manager Dwayne McFarlane took part in the walk, raising more than £2,000.
The Tui staff also organised branded T-shirts bearing the words "In memory of Cassie", which were worn by walkers.
In a joint statement, the team said: "It was a lovely day and such a great way to remember our special friend, Cassie."
McFarlane added: "Cass was more than a colleague, she was our friend."