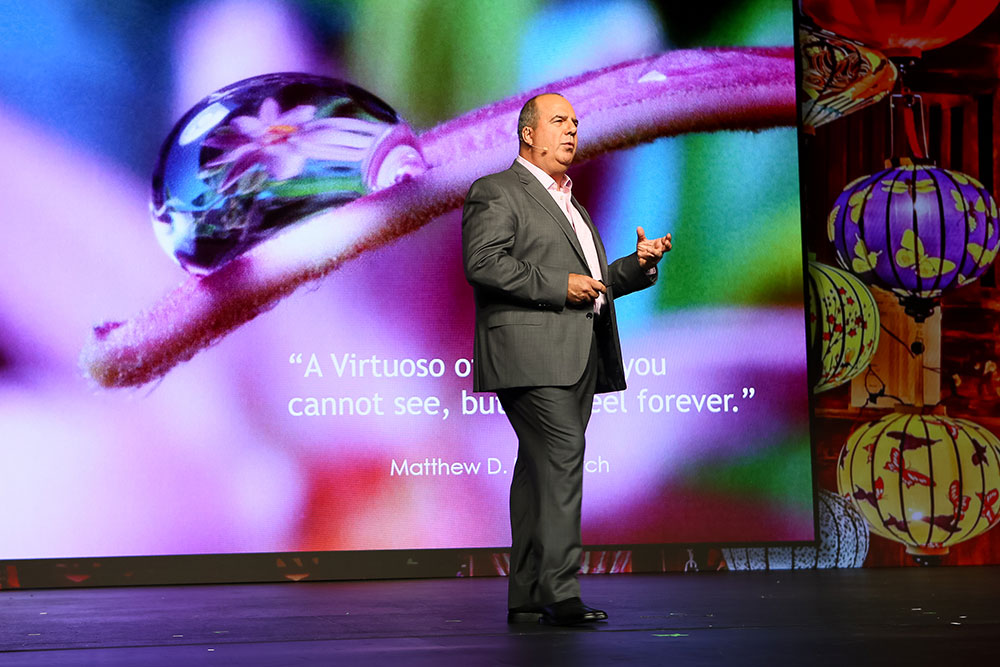 Upchurch at a past Virtuoso Travel Week event
With 78,000 appointments scheduled to take place this week during the global event, it's clear the world's luxury travel advisors and suppliers are determined to fight on, even when continuous obstacles get in the way of them booking travel.
Virtuoso's virtual show this week replaces the usual mega event that takes place annually in Las Vegas, but chief executive of Virtuoso Matthew Upchurch said the response to the online event proved the global need for the "industry to stay connected".
Speaking at a virtual roundtable at the opening of the event, Upchurch said the global pandemic was obviously proving catastrophic for the travel and tourism industry.
"We are part of a $9 trillion industry, one that is three times the size of agriculture, for example, and while some people may be talking about being in recession, our industry is in a depression – we are facing 197 million job losses globally by the end of the year," he said.
The founder of Virtuoso, a 22,200-strong advisor community producing $30 billion in annual luxury sales, urged better global cooperation across the board on all matters to do with the coronavirus pandemic.
"Better government collaboration is required to steer this crisis, it's important the whole planet tries to fix this together; you cannot just have a piecemeal approach," he said.
But he added there were also some reasons to be optimistic.
"Stock markets continue to be robust – unlike the financial crash of 2007/2008, this is not a fundamental economic breakdown; people do want to travel, but for the first time in history, every single country around the world has had restrictions in place," Upchurch said.
He also stressed the crisis had allowed agents to prove they were as digital as any other travel industry player, and to prove their adaptability.
Becky Powell, chief strategy officer, Protravel International, said the crisis had also forced more agents to look at their business model, and whether they should be charging fees going forward. "Their role is changing significantly – it's now a case of being an expert in health and safety as well, as that's our clients' main concern," she said.
"The world is in upheaval and the things that advisors are now talking to their clients about is changing; it's a real challenge to keep up with all the information," Powell added. "Who would have thought that 'how to get a Covid-19 test' was something a travel advisor would need to know about?"
She said it was becoming vital to bring in more of the training and measures that would previously have seemed more pertinent to business travel to ensure agents were prepared for advising clients on the new way of travelling.
Trends of what people did want to do once they could travel were also emerging, Upchurch said. "Many places had been suffering from overtourism, and we were all trying to grapple with that – now we are now in a phase of 'undertourism' and governments have a chance to shape how they want their destination to be seen going forward," he added.