Hitting the road on a Beachcomber Mauritius fam
Forget what you saw in the brochure…Mauritius is far more than simply fly-and-flop, as Tom Parry discovers when he takes the wheel on a memorable Beachcomber Tours educational.
Sarah Archer is bonkers," we concur as I traverse our modest, cherry-red Suzuki Celerio through a midday melee of traffic on a bustling Mauritian high street.
Horns sound, stereos blare and arms wave wildly in navigational gesticulation – and that's just from our own rental car as my team and I quickly get into the groove of local motoring etiquette. We later end up stuck; wedged rather comically between two metal posts while attempting to make a badlythought- out U-turn.
At this juncture, and with some tricky manoeuvring so far only leading me to scratch the vehicle's rosy paintwork, it feels like a good moment to reverse back and explain…
We're on a crusade (quite literally), the inaugural Travel Trade Crusade 'Mauritius a La Car' stage, with a route which, if followed correctly, will take us from Beachcomber's Trou aux Biches resort in the north to Shandrani on the island's southeast coast – the final destination of our adventure.
The aforementioned Archer – Beachcomber's national sales manager and co-founder of industry charity motoring challenge the Travel Trade Crusade – has devised this unusual way for us to get out and see the island.
Beachcomber opened its first property in Mauritius in 1952 and now boasts "the only eight hotels on the island", she playfully reminds us throughout our stay.
Full of surprises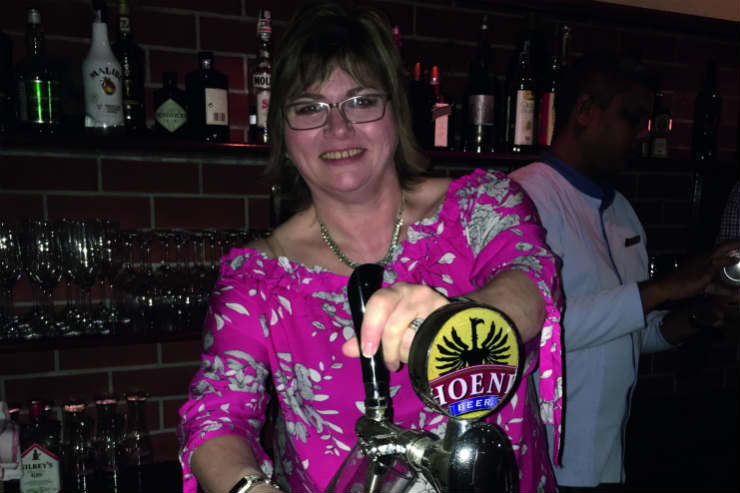 We are now well into the swing of Beachcomber's Big 50, a week-long educational taking 50 agents, myself and a full-blown camera crew worthy of a Hollywood flick to capture moments of mishap and magic, to celebrate a half century of the island's independence.
Surprises come thick and fast, from a traditional sega dancing welcome at the first of our three homes, Beachcomber's Dinarobin, to a sunset catamaran cruise along the island's western coastline.
A personal triumph comes while waterskiing at nearby Paradis, which like all Beachcomber properties offers guests unlimited, free watersports. I manage to haul myself from the sapphire waters to glide semi-gracefully on two skis for all of a few seconds, much to the merriment of my instructors.
It's the first of many magical moments with the Mauritians, whose warmth and sense of fun Beachcomber loves to promote.
The people are just as important as the product, explains Archer: "We [Beachcomber Tours] and Mauritius are so intertwined. When we host an educational, it's like we're taking people to visit our friends and family. We want agents to love them as we do."
Week of adventure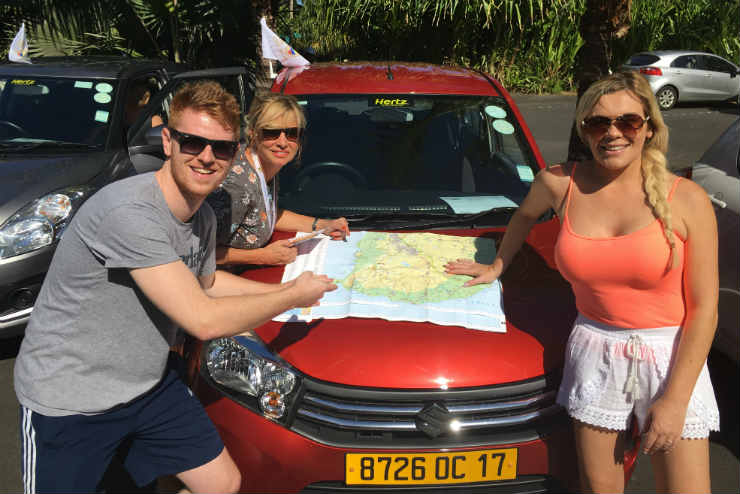 Throughout the week there's an interesting mixture of activities.
One highlight is an adrenaline-fuelled day of zip-lining and rollercoaster riding at theme park Casela World of Adventures, proving again the island offers more than a beach and sun lounger.
Another day is spent treasure hunting and being tasked with getting from Beachcomber's Mauricia to Canonnier resorts with little more than the generosity of locals. It leads to hilarious and ingenious methods of transportation – ice truck, anyone?
The next day, with little more than a map (which we later discover to be mislabelled, but I hold no grudge, honestly), a CD of "car choonz" and a Beachcomber Big 50 window flag flapping proudly, we're let loose for the Crusade in small teams and a fleet of rental cars.
We set off from Trou aux Biches feeling well rested, having spent the night in one of the resort's lavish Pool Villas, complete with a private infinity pool and personal butler.
"Remember, Mauritians love to you help out – whether they know the way or not," giggles Archer as we set off, and despite feeling as pampered as an F1 superstar earlier, my driving and directional skills are lacking.
We take advantage of the generosity of the locals and stop for directions throughout the day, calling in at shops, garages and roadside cafes, all with varying degrees of success.
Fresh makeovers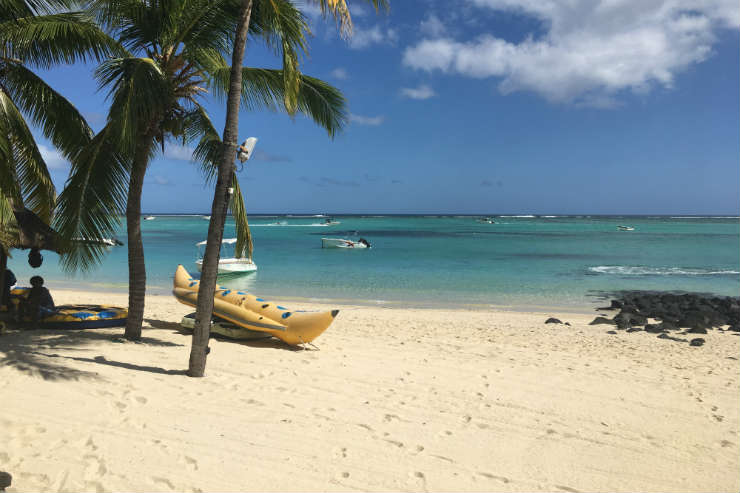 As we drive, the breeze soothing my warm face, I cast my mind back to the previous evening and a visit to Beachcomber's Victoria resort and its newest concept, the tranquil Victoria for 2.
Despite only opening in February, it's already proving a hit. Situated in its own private adults-only section of the hotel, it features a submerged pool bar, 17 swim-up rooms and a soothing "barefoot policy" where shoes are left behind.
It has been "virtually full for 2018," Archer tells me. "Definitely book early for 2019."
Victoria for 2 isn't the only new aspect of Beachcomber's portfolio, with a series of revamps befitting a celebratory year. Paradis' Deluxe rooms have all been renovated and rebranded as Ocean rooms, while its villas have also had an update.
A new kids' club at Canonnier and refreshed Junior and Senior suites at Dinarobin have also kept Beachcomber busy.
Over at Shandrani, new decor for its Deluxe rooms has been added and guests can now play the Avalon golf course for a small charge.
Mauritian hospitality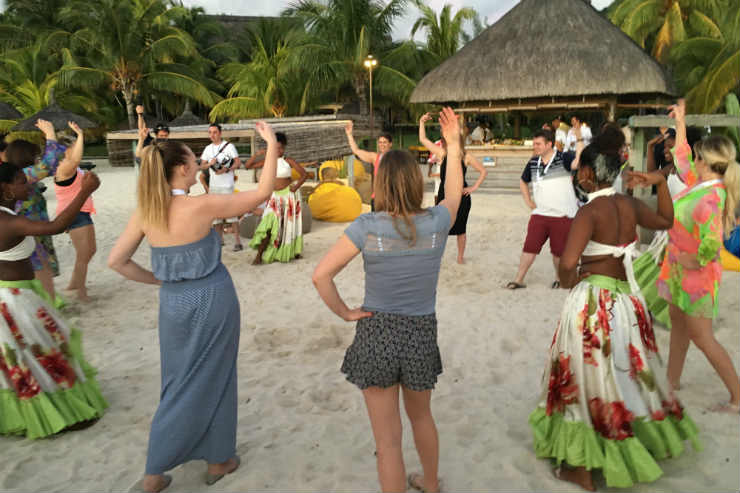 Thanks to some friendly local advice, we eventually find our way to Shandrani's gates, sounding a triumphant toot of our horn after a long but entertaining day.
We hand the keys back to the rental representative sheepishly, given my accidental redesign of the car's paintjob, but he sees the funny side – typically Mauritian.
Once inside and cocktail in hand, we trade Crusade tales with a sense of amazement, as it seems each team had its own mini-fam over the past few hours with plenty of stories to tell.
After asking police for directions, one group were whizzed through town with an escort of outriders, sirens flashing, while another was invited into a local primary school to take part in a lesson.
"Mauritius is so much more than fly-and-flop and that's what we wanted to show," says Archer.
"You'd never have got that going round on a bus in a big group. The people are so genuine… Beachcomber's heart lies here."
With Mauritius performing "really strongly" and another fam trip planned for next year to celebrate Beachcomber's 30th anniversary plus a sales incentive for Big 50 agents to win a return trip to the island, it's clear Archer isn't so bonkers after all.
Book it: Beachcomber Tours offers a seven-night stay at Trou aux Biches in a Junior Suite on half-board, including complimentary lunches and the Escapes Drink Package, from £1,950pp, departing June 2019. Price includes flights and private transfers in Mauritius.
beachcombertours.uk
Agents' views
Sibyl Brandon-Jones, Courtney World Travel
"This was my first visit to Mauritius and it certainly won't be my last. My perception has changed – it's an island that just keeps giving, from being able to hire a car, drive on the same side of the road and converse in English as well as French, to sampling the most amazing food accompanied by beautiful Mauritian smiles. This is something that a brochure couldn't possibly translate."
Greig Ewins, Stewart Travel
"Having been to Mauritius twice, I was intrigued to see how the island had changed. This educational was the best I've been on. Having never driven abroad before, we learnt just how easy it is to get around – depending on your map-reading skills, obviously! The driving challenge was a brilliant experience and the highlight for me. I'd definitely recommend hiring a car."
Ally Streeter, Toucan Travel
"I thought Mauritius would be purely a beach holiday – how wrong I was. It was so easy to explore in a car. The locals are so friendly, good-humoured and caring. I can now sell Mauritius and feel the island suits all ages. It's fantastic for multi-generational families, honeymooners and newlyweds."