Top tips for Jersey weddings and honeymoons
Romantic experiences can be found around every corner on Jersey, the largest of the Channel Islands. Here's a selection of quirky wedding venue suggestions and honeymoon highlights that are sure to appeal to your loved-up clients
With the Covid-19 pandemic pulling the plug on overseas weddings in 2020 and leisure travel still banned as we move into 2021, couples may be seeking a new destination in which to tie the knot or celebrate their newly made vows.
Jersey, far enough away to provide a different vibe but close enough to eliminate the current stresses of international travel, might just be the magical island these brides and grooms are looking for.
THE WEDDING
Jersey's marriage laws make it easy for couples to get hitched on the island. They simply need to apply for an application by post then, once the paperwork is completed, arrive three working days before their chosen date, complete the formalities and collect their licence. There are plenty of beautifully intimate and idyllic venues and locations to choose from in Jersey, including the Jersey national park.
Couples seeking a ceremony reminiscent of a fairy tale can opt to say their vows at Mont Orgueil castle, where they can select a candlelit medieval hall or chapel for their ceremony and gardens or battery for their reception. The 13th-century fortress is steeped in history, but the shining star of this venue is its sweeping views along the east coast of the island and to France.
The storied Elizabeth Castle in St Aubin's Bay is also a splendid option with panoramic views across the bay. Civil partnerships and wedding ceremonies can take place in The Governor's House with a musket salute and canon firing to mark the occasion. Guests are also able to walk out to the castle at low tide and return back on a boat at high tide.
Inland, La Mare Wine Estate offers the opportunity to say "I do" with a vineyard as the backdrop and host rustic receptions overlooking manicured lawns. The venue can even provide chocolates and locally-made gin miniatures for the table gifts, and the estate's cider and apple brandy is top-notch.
Alongside this menu of quirky venues there are also a host of luxury hotels providing wedding packages on Jersey. The Royal Yacht Hotel in St Helier, The Atlantic Hotel on the south-west coast, The Somerville Hotel overlooking St Aubin's Bay, and the St Brelade's Bay Hotel on the south coast are all worth investigating. Or, if clients want to return to a special spot on the island, they can apply to have it approved for marriage.
THE HONEYMOON
Dramatic scenery and coastal sunsets mean any visit to Jersey can be romantic, but there are ways to make a honeymoon in the destination extra special. For example, suggest your newlywed clients wait until the tide is at its lowest on the beach at Plemont then head down to the shoreline to explore the caves inaccessible at other times of day. Couples could even pack up a picnic by The Jersey Grazing Company with a bottle of wine to watch the sun set from the sand – St Ouen's Bay is the perfect place for this.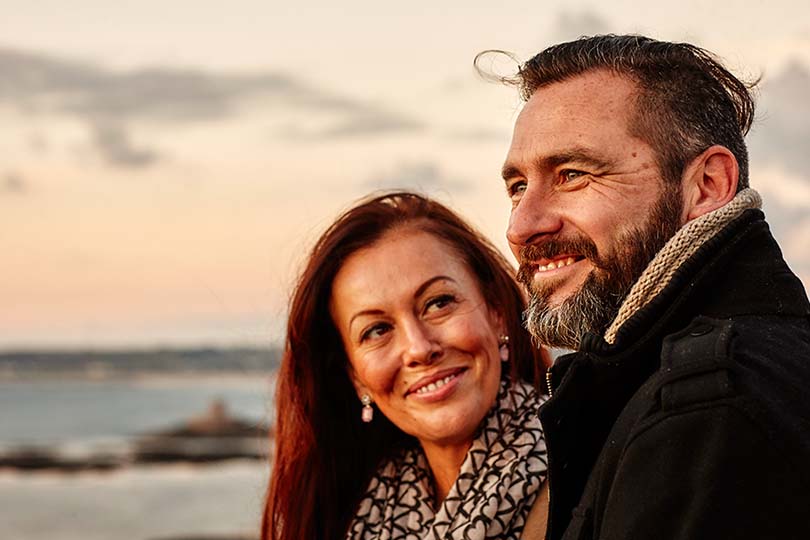 Candelit dinners are widely available on Jersey, but for an undeniably memorable dining experience recommend the Michelin-starred Bohemia in St Helier. The menu here is created by the restaurant's talented head chef Callum Graham, a 2018 MasterChef contestant who reached the quarter-finals. Alternatively, the Oyster Box in St Brelade's Bay is known for its seafood and, of course, oysters, which are served up with a dreamy sea view.
There are so many more activities to consider for couples heading to Jersey for a once-in-a-lifetime trip, whether they're interested in nature, culture, food or simply spending time with each other in special settings. Find out more on TTG's dedicated Visit Jersey hub, as well as details of the current entry requirements.
For more information about how to arrange a wedding on Jersey visit the relevant page on the government's website.