Why Qatar is perfect for a winter-sun luxury break
Dune-bashing trips, camel racing and relaxing boat trips on a traditional dhow are just some of the enticing activities for tourists to enjoy during a visit to Qatar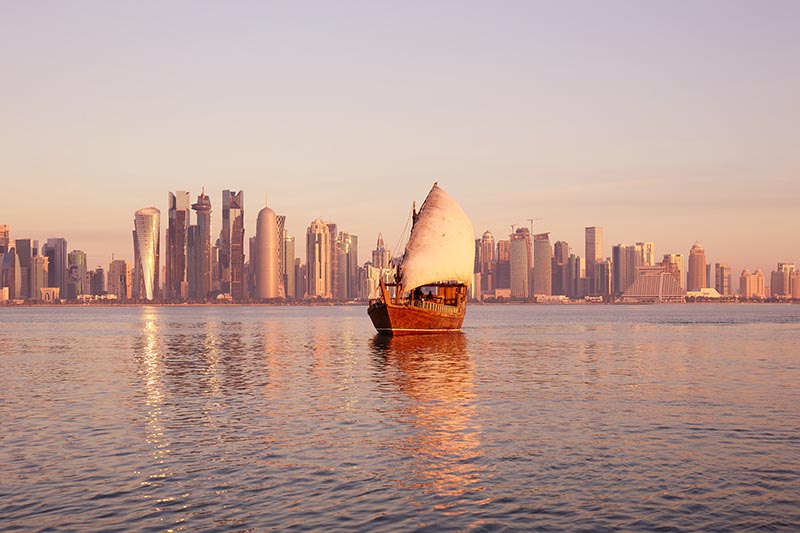 With an idyllic backdrop, a rich heritage and fascinating culture, Qatar is an ideal destination for your clients looking for a winter-sun luxury break or a fascinating stopover destination.
Qatar could not be easier to get to from the UK, with Doha welcoming around 20 direct flights per day. National carrier Qatar Airways hosts a variety of UK services flying direct from Heathrow, Gatwick, Manchester, Birmingham, Cardiff, Edinburgh and Dublin.
Travel to Qatar is made even easier thanks to the new visa facilitation measures. These allow passengers from the UK – and over 80 other countries – 30 days of visa-free travel in the country.
Things to do
One of the most popular ways to enjoy the spectacular skyline of the capital, Doha, is to take a cruise on a traditional wooden Qatari Dhow boat, which gives visitors a taste of the country's seafaring history while enjoying breathtaking views of the city's modern and ever-changing skyscape.
Full-day, half-day and evening sightseeing excursions, including meals, are available with sunset being one of the best times to view Doha's skyline.

Another unique cultural experience is the camel racing at the Al Shahaniya track. Racing takes place throughout the winter season between November and February, and offers visitors an enticing mix of colour, noise and spectacle.
The camels are ridden by remote-controlled robot jockeys, giving the races the most modern of twists on an ancient sport as the remote-controlled riders, dressed in colourful racing silks, ride their mounts across the sands.

Qatar also offers its own unique experience when it comes to dune-bashing trips. Scale the dunes in the desert south-west of Doha in a 4x4 or explore Khor Al Adaid, the famous 'Inland Sea', a Unesco-recognised natural reserve and one of the only places on the planet where the sea encroaches deep into the desert.
Luxury hotels
Qatar is home to some of the world's most luxurious hotels and resorts, where your clients can be certain of a warm welcome and outstanding service reflecting the best of Arabic hospitality.

Around three-quarters of Qatar's 20,000 hotel rooms can be found within four- and five-star properties, showcasing the destination's commitment to premium tourism and offering some of the finest facilities and highest standards of service found anywhere in the world.

Many of Doha's major hotels are self-contained resorts with their own private beaches, as well as being close to the city's most popular tourist attractions. There are also exclusive boutique hotels and serviced apartments in the downtown area providing even more choice to clients.

Agents can make sure they have all the latest information about Qatar by taking the updated Tawash Online Training Program.

As an added bonus, agents can be in the running to win a three-night holiday to Qatar by completing the short course – more details here