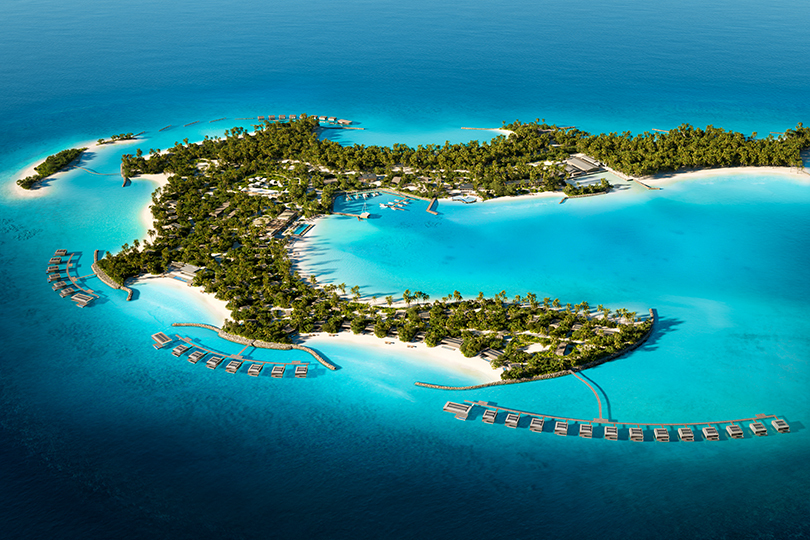 Patina, Maldives opens 18 May
I'm nowhere near the Indian Ocean – I'm sat in my London flat, as is often the case these days. The warm glow comes from a "sunset lamp", which if you Google, you'll see has become something of a coronavirus/lockdown phenomenon – almost as uplifting as watching/listening to Jerusalema (388million YouTube views and counting).
The lamp was sent to me on behalf of Patina, Maldives Fari Islands, and the cocktail? Sadly, that wasn't mixed in a beach bar, but made by my own best efforts with some of the Pensador Mezcal I was sent and some TwoKeys' pink grapefruit mixer.
And so, until we can get back out to the Maldives, I'll settle for this combination, and a couple of hours learning about Patina with Nicholas Clayton, chief executive of Capella Hotel Group – which is launching it as a new affluent lifestyle brand – and general manager Marco Den Ouden, live from the resort.
"Capella's second brand is fundamental to our ability to grow; often developers look to us for alternatives, so it was important for us to have this as an option," says Clayton on the evening Zoom. "We picked the lifestyle space as it was more future-orientated, as these travellers like new fresh spaces, community-focused ideas and wellness. It's a brand for the future, and where design is very important. Patina will deliver a full customer experience: we are very much in the experience business."
That was clear from the effort put into making a virtual introduction to the resort as conducive as possible; Patina, Maldives is certainly likely to be one of the most impressive openings in the country this year, with lucky guests from somewhere in the world able to stay there from 18 May onwards.