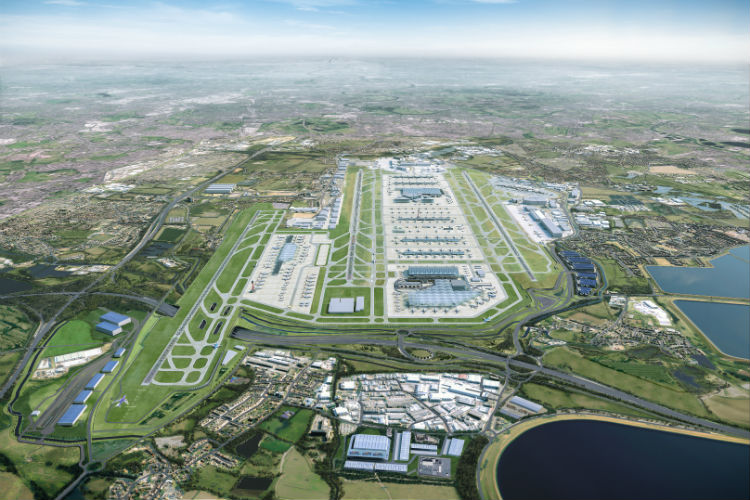 Heathrow's planned third runway
IAG chief executive Willie Walsh wants an independent study commissioned to ensure any expansion at Heathrow is "cost effective" and consumers are not "taken for a ride".
The airline group, which currently holds around 55% of Heathrow's slots, is especially concerned about "hundreds of millions of pounds of airline customers' money" being spent on early construction costs before full planning permission is granted.
The CAA is due to announce this week how much Heathrow can spend on these planning and early construction costs. IAG said estimates of these costs have increased from £650 million in April 2018 to £2.8 billion.
"We need a fresh look at the environmental viability and total cost of expanding Heathrow," said Walsh. "The airport has a history of spending recklessly to gold-plate projects and paying guaranteed dividends to shareholders while minimising the environmental significance of expansion.
"Boris Johnson wants to make Britain more competitive. Allowing an expanded airport that is considerably more expensive than our European neighbours would be an own goal as we need to compete on the world stage.
"An independent study would ensure Heathrow expansion is cost-effective and stop the CAA, as regulator, allowing consumers to be taken for a ride.
"To ask customers to stump up vast sums in advance for a runway that may not get built, based only on Heathrow's cost proposals, is unacceptable."
Johnson was a vehement opponent of Heathrow's third runway when he was London mayor and vowed to "lie down in front of bulldozers" to prevent expansion.
The Conservative general election manifesto called for the airport to put forward a "realistic business case" for a third runway. The project was approved by MPs in the previous parliament in June 2018.