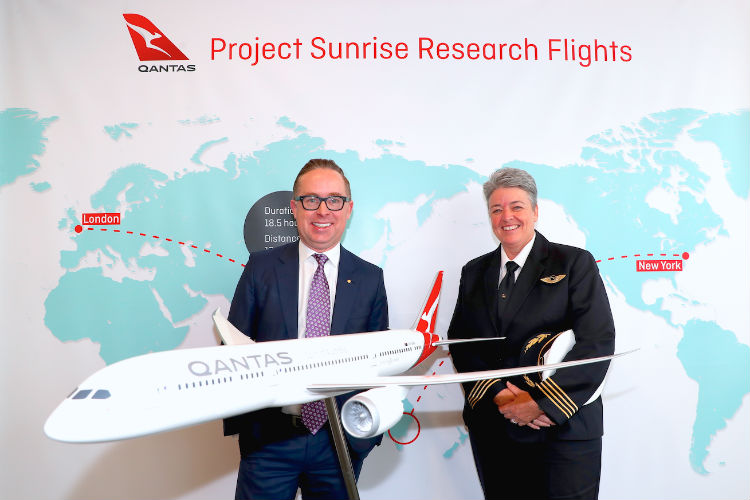 Qantas Project Sunrise.jpg
The flights, which include one from London to Sydney and two from New York to Sydney, will simulate two of Qantas's proposed routes as part of its ongoing ultra long-haul research project Sunrise.

Qantas will operate the flights, which are scheduled for October, November and December and estimated to each take about 19 hours, using three new Boeing 787-9 aircraft.

Instead of flying the aircraft empty from Boeing's production facility in Seattle to Australia, Qantas will reroute the aircraft's delivery flights to operate its Project Sunrise routes.

Each flight will be limited to 40 people, including crew, to minimise weight and extend the aircraft's range. Carbon emissions from all three flights will be "fully offset" according to Qantas.

The airline's direct New York-Sydney flight will be the first by a commercial airline, while its London-Sydney operation will mark just the second time the route has been flown commercially.

Passengers, mainly made up of Qantas employees, will be fitted with wearable technology devices and will take part in specific onboard experiences at various stages of the flight.

Scientists and medical experts will monitor their sleep patterns, food and drink consumption, response to lighting, physical movement and in-flight entertainment to assess the impact of such a lengthy flight on health, wellbeing and body clock.

The aircraft's pilots will also be closely monitored to obtain the necessary data to start planning work and rest schedules for ultra long-haul operations.

Qantas Group chief executive Alan Joyce said: "Ultra-long haul flying presents a lot of common sense questions about the comfort and wellbeing of passengers and crew. These flights are going to provide invaluable data to help answer them.

"For customers, the key will be minimising jet lag and creating an environment where they are looking forward to a restful, enjoyable flight. For crew, it's about using scientific research to determine the best opportunities to promote alertness when they are on duty and maximise rest during their down time on these flights."

Qantas has long been courting Airbus and Boeing to come up with aircraft to meet its ultra long-haul ambitions and operate Project Sunrise flights on a commercially viable basis.
A final decision on whether to go with Airbus's A350 or Boeing's 777X will be made by the end of the year.
Meanwhile, Qantas has cited rising fuel costs and a weak Australian dollar after posting full-year profits down 17%.

Its underlying pre-tax earnings have fallen from AUS $1.57 billion (£870 million) to AUS $1.30 billion (£720 million).