Etihad Airways launches wellness programme for traveller safety, hygiene and confidence
Etihad Airways continues to offer its high levels of service while introducing new initiatives to improve traveller wellness and consumer confidence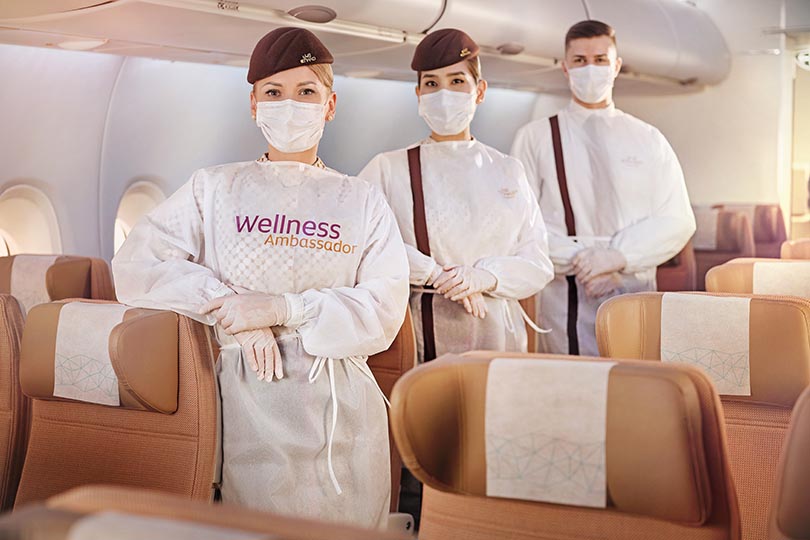 As Etihad Airways, the national airline of the United Arab Emirates, looks forward to welcoming passengers from the UK and Ireland back on its flights from Heathrow, Manchester and Dublin, it has made a number of changes to the traveller experience in order to help consumers feel confident about their travel plans.
ETIHAD WELLNESS
Launched this summer, Etihad Wellness has been designed to give guests greater peace of mind whilst travelling. The comprehensive health and hygiene programme and customer guide introduces a team of Wellness Ambassadors who are available to assist travellers with support, care and advice on how to stay safe during their journey. A first in the industry, Etihad's Wellness Ambassadors are available 24/7 online via live webchat at Abu Dhabi International Airport and onboard all Etihad flights.
Etihad Wellness also features additional deep-cleaning rotas, initiatives to limit touch points, culinary hygiene measures and social distancing. Etihad has also introduced a Fit to Fly self-service check in and health screening process. At Abu Dhabi Airport, Etihad's hub, no-touch lift controls and self-cleaning escalator handles have also been added.
STAYING SAFE IN THE SKY
The online Etihad Wellness guide can be found at etihad.com/wellness, highlighting all the precautions being taken throughout the customer journey. This includes information about the changes made to culinary hygiene at the airline's catering facilities and food testing laboratory, aircraft cabin deep-cleaning, check in, health screening, boarding, inflight experience and product, crew interaction, arrival, and ground transportation.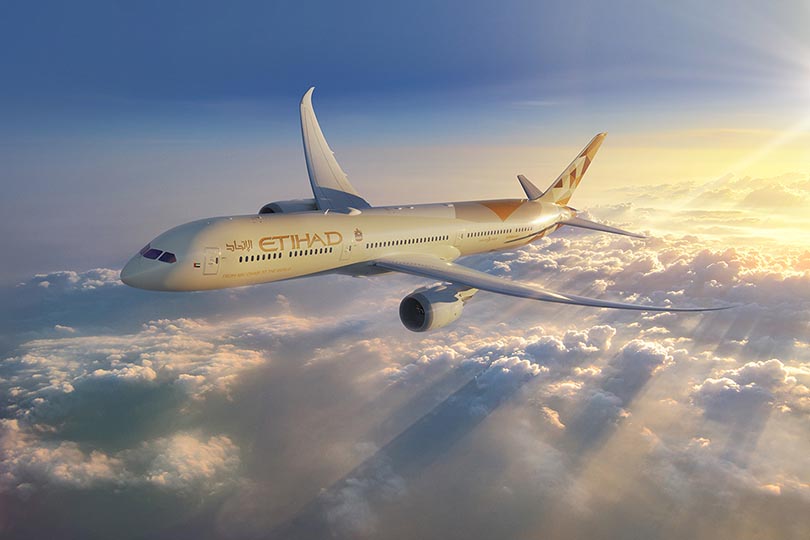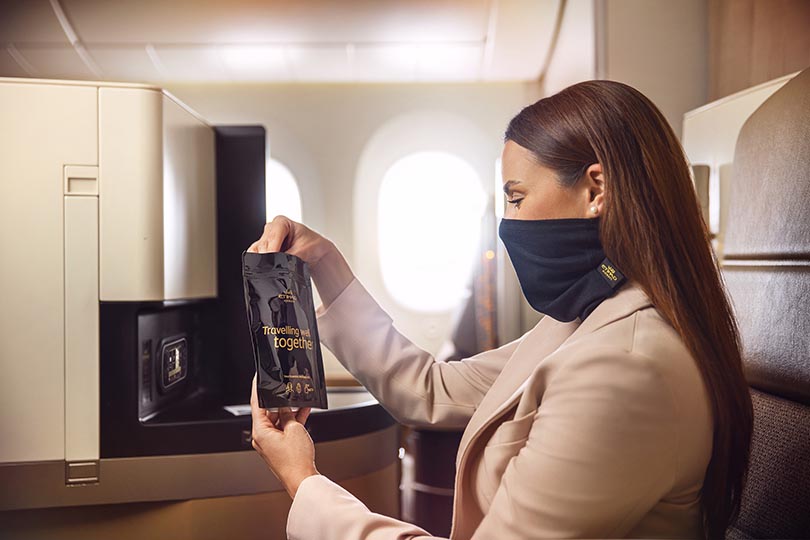 All of Etihad's guests will be provided with a Wellness Kit onboard, while those travelling in Business and First Class will also be provided with a snood-style face covering to use onboard and on arrival in their destination. Designed to help passengers protect themselves and others from Covid-19, the covering has been treated with a protective layer to reduce the presence of germs in the fabric.
NETWORK NEWS
Come October, Etihad will have resumed services to more than 60 destinations worldwide from its Abu Dhabi hub (find out more at etihad.com). The airline has also introduced its Etihad Wellness protocols alongside a newly produced interactive map outlining the latest guidelines and regulations for specific destinations. The information provided per country includes current travel bans, entry requirements, social distancing and other virus prevention measures, plus the status of local transportation and tourism businesses such as hotels and restaurants, so it's a useful reference tool for agents when selling holidays during the pandemic.
WIN A TRIP TO ABU DHABI WITH ETIHAD AIRWAYS
To promote its new Etihad Wellness programme, the airline is offering travel agents the chance to win a trip for two people to Abu Dhabi with return Economy class flights and accommodation at the Jumeirah at Saadiyat Island Resort included. For the chance to win, answer a simple question before midnight on 15 October 2020.
Find out more, including the terms and conditions here.
Plus, all travellers flying with Etihad Airways must organise their own Covid-19 Polymerase Chain Reaction (PCR) test a maximum of 96 hours before boarding the plane, thus building on the stringent measures already put in place by the airline to manage the virus.
Currently only UAE residents can enter Abu Dhabi, with Etihad guests able to transfer via Abu Dhabi Airport. The airline continues to follow UAE and international government, regulatory and health authority directives, and is showing that it's playing its part in helping to limit the spread of Covid-19.
Guests travelling with Etihad Airways for future trips will continue to experience the same warm and personal service as they have always received, whether they're travelling in the airline's acclaimed Business Class or seated in one of the Economy cabin's ergonomic Smart Seats – no compromises have been made and it's clear Etihad is excited to welcome its guests onboard.