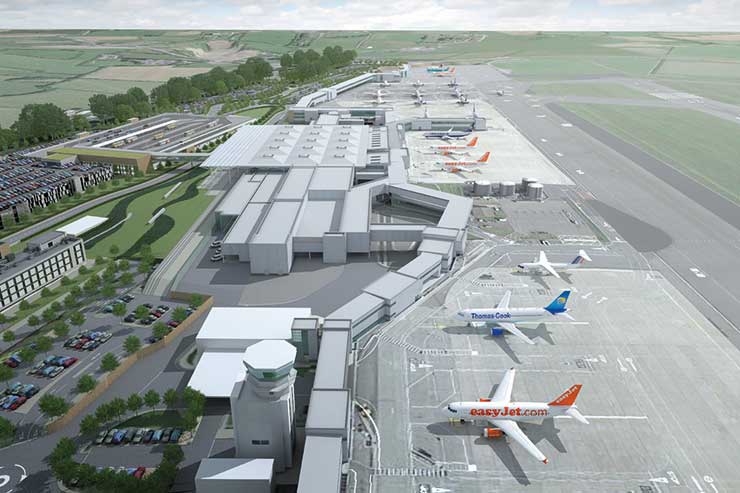 Bristol Airport development artists rendering
The airport has submitted a planning application to North Somerset Council seeking permission to increase capacity to handle up to 12 million passengers a year by the mid-2020s.

The new plans include the enlargement of the terminal and an increase in on-site, multi-storey car parks, while a new taxiway link will improve access to the runway for aircraft.

The submission comes as the airport predicts it will break the nine million passenger mark this year and is ultimately aiming to serve up to 20 million passengers a year by the mid 2040s. To aid this, Bristol airport business development executive Becky Baumbach said she would be forging more links with regional agents.

She added: "We need the trade and we need them to book Bristol. One of my key objectives is to really [raise awareness] about the airport and destinations available.

"We don't assume people will book Bristol just because we're larger than Exeter or Cardiff," she added.

Baumbach said she would be using 2019 to reach out to agents in counties slightly further away, such as Dorset, Wiltshire and Gloucestershire.

She added it was not just the 126 destinations the airport serves that are of interest to travellers, but also access to hubs such as Amsterdam's Schiphol airport via KLM and the long-haul destinations available there.

Baumbach said: "Some people want to fly direct and we appreciate that but we also have a good six hubs you can fly through from Bristol."

As an example of the strong links it has with the local trade, Bristol airport was hosting training for 60 agents from Miles Morgan Travel when TTG visited last month.

The staff were from all 15 of the local miniple's south-west and Welsh branches and met with the preferred partners over a three-day period.

Miles Morgan Travel general manager Mandy Shillito said the training was an invaluable part of the agency's preparations for the new year.

She added: "It is part of the build-up to peaks. We're preparing our teams for something big and when it matters the most – the knowledge is fresh."