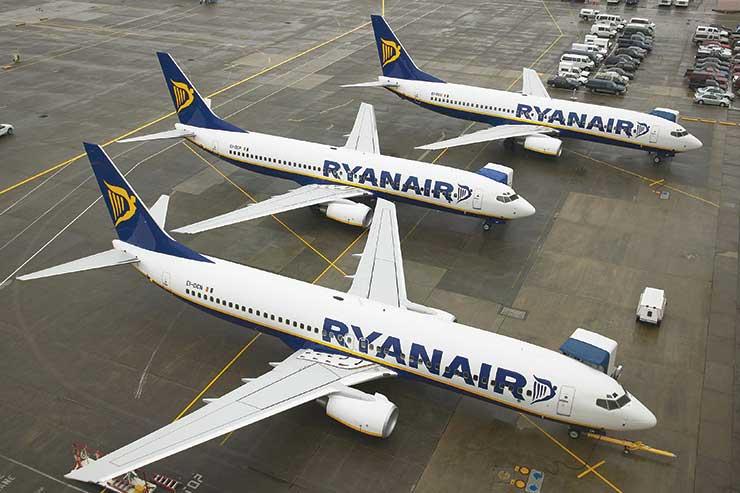 Many Ryanair aircraft remain parked
The airline carried 17 million passengers in the first six months of its financial year, compared to 86 million in the same period in 2019 when it made a profit after tax of €1.15 billion.
The airline grounded 99% of its fleet from mid-March to the end of June, but managed a 72% load factor on flights it did operate.
Ryanair gave a bullish outlook despite the hit. It said: "We expect intra-European air travel capacity to remain subdued for the next few years. This will create opportunities for Ryanair to grow its network, and expand its fleet, to take advantage of lower-cost airport and aircraft opportunities that will inevitably arise."
The carrier said route development teams were already in talks with airports "who have suffered steep traffic declines", while discussions were ongoing with aircraft suppliers "to reflect the new Covid-19 reality".
Ryanair still plans to take delivery of its first Boeing 737 Max aircraft in early 2021, with 30 planned to enter the fleet before next summer's peak. Ryanair said it remained committed to the aircraft, which is still grounded after two accidents in 2019. The Max would offer 4% more seats, 16% lower fuel burn and 40% lower noise emissions, it said.
"These new aircraft will enable Ryanair to grow to 200 million passengers per annum over the next five or six years while lowering the cost base and significantly reducing its environmental footprint."
Ryanair predicted it would carry about 38 million passengers in the full year 2020/21, but warned: "This guidance could be further revised downwards if EU governments continue to mismanage air travel and impose more uncoordinated travel restrictions or lockdowns this winter."
It added that it expected "to record higher losses" in the second half of the year than the first.