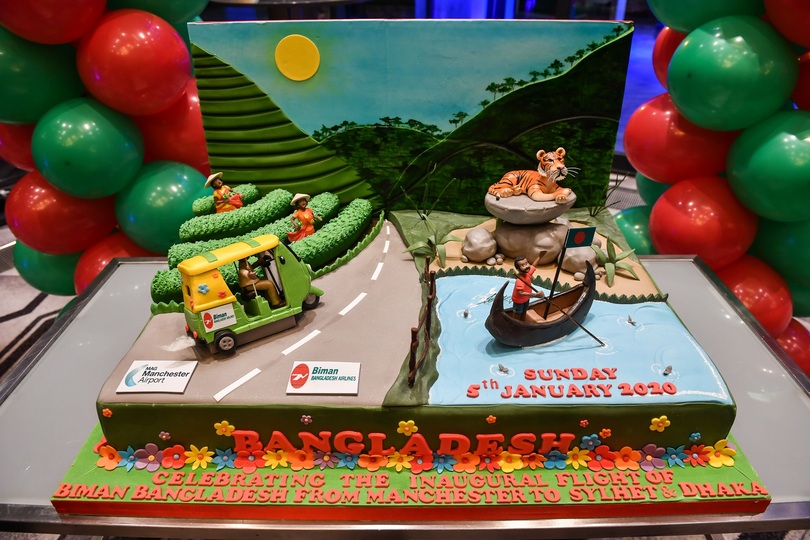 Biman celebrated its new Manchester service with a spectacular cake
The new flight, by Biman Bangladesh, serves Sylhet before continuing to the capital city Dhaka. Sylhet, in the north east of the country, is the region where most people of Bangladeshi origin living in the north of the UK originate.
The flight, which operates from Manchester on Sunday, Tuesday and Thursday, is non-stop from Dhaka inbound to the UK.
Biman is using new Boeing 787-9s on the Manchester route, with a flight time of 10 hours. The Dreamliners have 24 seats in business class and 247 in economy. Economy fares start from £580 return and business is from around £1,500.
There are an estimated 70,000 people of Bangladeshi origin in the north of England, with 300,000 in the area stretching from Birmingham to Scotland.
Biman's regional manager Debabrota Mallick said the first two weeks of flights had "completely sold out", adding: "A direct flight from Manchester to Sylhet and Manchester to Dhaka has been on our radar for quite some time.
"As part of our business strategy, our main focus has been to connect Manchester to both these thriving parts of Bangladesh. Not only was this due to high demand from the Bangladeshi community in the North, but we also saw a good opportunity to increase tourism and business potential, which has been increasing year-on-year."