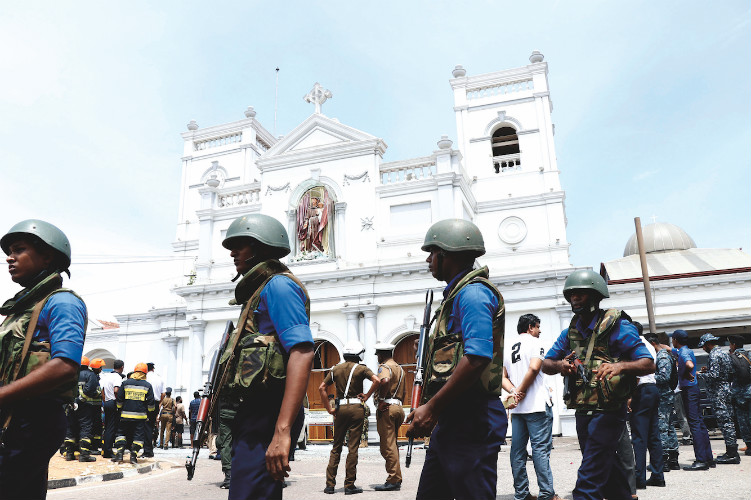 Sri Lanka 29 April Edition PA-42459163.jpg
The FCO changed the advice on Thursday (25 April) due to "the current evolving security situation" following the multiple suicide attacks on churches and hotels that killed more than 250 people on 21 April.
"Terrorists are very likely to try to carry out attacks in Sri Lanka. Attacks could be indiscriminate, including in places visited by foreigners," said the FCO in its updated advice.
"Security has been stepped up across the island. A state of emergency and night-time curfew remain in place.
"The Sri Lankan authorities have made a number of arrests in relation to the attacks, and security operations are ongoing, including controlled explosions of suspicious packages and vehicles, and temporary evacuations of buildings."
Abta said customers due to travel to Sri Lanka imminently would be "offered options of deferring their date of travel, transferring to another destination or a full refund".
"Customers who have booked independently will need to discuss their options with their airline and accommodation provider," added a spokesperson.
The FCO said those UK citizens already in Sri Lanka should "keep in regular contact with your airline, tour operator and travel insurance company (where applicable) to ensure you are aware of arrangements that may be in place for customers".
"You should ensure you have confirmed, pre-arranged travel plans in place before leaving your accommodation for the airport," added the FCO. "Travel within Sri Lanka may be subject to delays – you should check with your travel provider well in advance and allow extra time.
"Colombo airport is operating, but with increased security checks and long queues for taxi pick-ups. The Sri Lankan authorities have confirmed that passengers with a passport and flight ticket for the day of travel can travel to the airport during curfew periods, and arrangements have been put in place for arriving passengers.
"Some airlines are advising their passengers to arrive early for check-in, in light of increased security screening. You should check with your airline about suggested check-in times."
Foreign secretary Jeremy Hunt said: "Following the horrific attacks on Easter Sunday, and the ongoing Sri Lankan security operation, I have received updated advice from the Foreign Office and decided to update the travel advice to British nationals to Sri Lanka to advise against all but essential travel.
"We will keep this decision under close and constant review. My first priority will always be the security of British citizens living and travelling abroad.
"We all hope the situation will return to normal very soon, and that the Sri Lankan tourism industry is able to get back on its feet following the terrorist attacks. We will do all we can to help the Sri Lankan authorities."