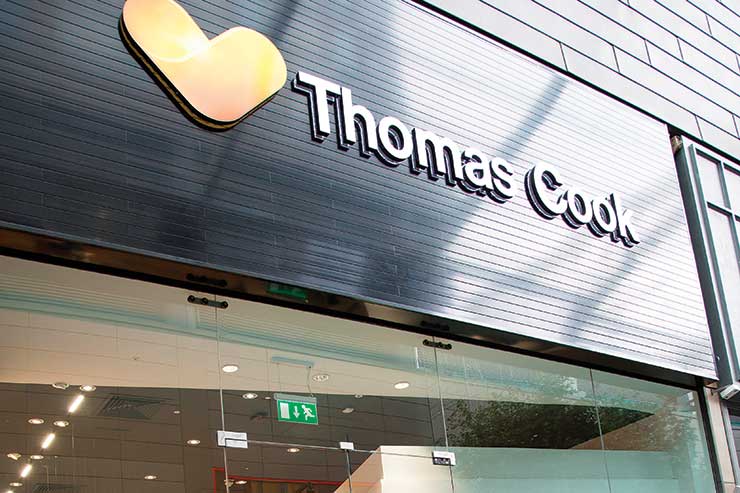 Thomas Cook Westfield Stratford City
Cook posted a half-year (H1) pre-tax loss of £1.45 billion on Thursday morning (16 May), down more than £1 billion from £303 million this time last year.

A large part of this, said Cook, was due to a £1.104 billion "goodwill impairment" arising from its 2007 merger with MyTravel.

However, despite this, underlying profit fell £63 million from £672 million to £599 million while its underlying operational loss grew £65 million like-for-like, including the impact of foreign exchange and a late Easter, to £245 million, which Cook said reflected the pressures on margins in its tour operating division.

Underlying gross margin fell 1% year-on-year from 20.8% to 19.8%.
MORE: Further store closures and job cuts likely at Cook
MORE: 'Multiple bids' for Cook's airline business
MORE: Cook's share price tumbles following winter losses

"The first six months of this year [to 31 March] have been characterised by an uncertain consumer environment across all our markets," said Cook chief executive Peter Fankhauser.

"The prolonged heatwave last summer and high prices in the Canaries reduced customer demand for winter sun, particularly in the Nordic region, while there is now little doubt the Brexit process has led many UK customers to delay their holiday plans for this summer.

"Our current trading position reflects a slower pace of bookings, against a strong first half in 2018, and our decision to reduce capacity in order to mitigate risk in the tour operator and allow our airline to consolidate the strong growth it achieved last year," Fankhauser added.
Cook has secured a £300 million bank facility to provide additional liquidity to mitigate any downturns during winter 2019/20 and confirmed it has received "multiple bids" for its airline business, which it put up for sale in February.
Virgin Atlantic, Lufthansa Group and private equity firm Indigo Partners are understood to be potential suitors for all, or part, of Cook's airline division.
Cook's summer 2019 programme is 57% sold, with "strong demand" for Turkey, Egypt and Tunisia and declining Spanish island bookings owing to Cook's decision to "significantly reduce" tour operator capacity for the summer.

It said tour operator bookings, down 12%, were "broadly consistent" with capacity reductions "to better manage operational risk throughout the year".

"Trading for the group has been challenging to date, reflecting an uncertain consumer environment which has led to a slower pace of bookings across all markets," said Cook.
"We have partially mitigated this risk by reducing the amount of capacity across all of our tour operator businesses. However, we continue to face intense competition, particularly in our UK business."

In the UK specifically, Cook said the ongoing uncertainty relating to Brexit had led to "softer demand" for summer holidays, adding this had led to "increased levels of promotional activity".
Looking ahead, Cook said competitive pressures from consumer uncertainly was putting "further pressure on margins", despite its efforts to "mitigate exposure in the lates market by reducing capacity".

"This, combined with higher fuel and hotel costs, is creating further headwinds to our progress over the remainder of the year," said Cook.
"As a result, we now expect underlying Ebit in the second half to be behind the same period last year although, as previously advised, operating profit will reflect significant reductions in separately disclosed items."