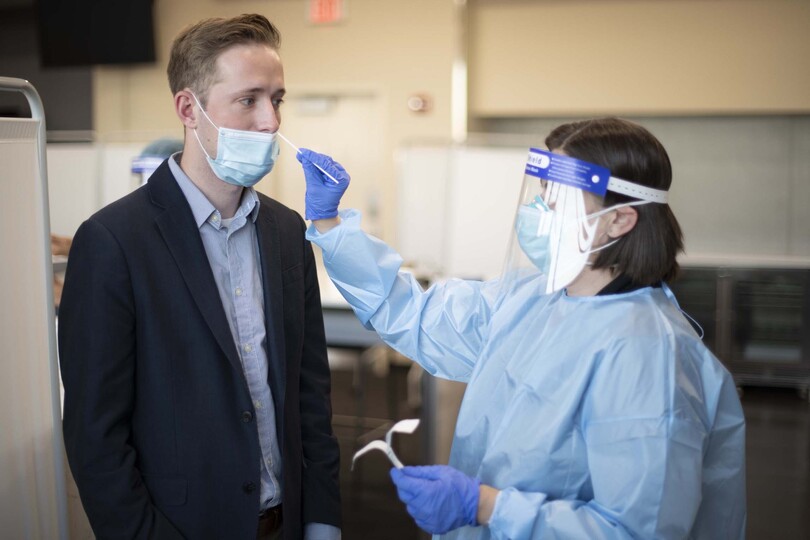 United Airlines is undertaking a Covid testing trial at Newark airport
The flight arrived on Tuesday morning from Newark, where the airline is piloting its free testing programme.
"Today is a really big day, it's a fantastic milestone on the road to recovery as we come out of the pandemic," said Aaron McMillan, United's managing director – operations policy and support, who arrived at Heathrow on the service.
Passengers on the New York-London service are tested at Newark, with appointments made at least three hours before departure. They are still required to quarantine on arrival in the UK.
McMillan said "40-50" passengers had been on the flight. "Most of our traffic is VFR, but we are hoping that with some opening up (of the restrictions) corporate traffic will start to come back."
The airline has yet to decide how to cover the cost of the tests once the trial period concludes.
"It is not built into the ticket itself, we are covering the cost from 16 November to 11 December," said McMillan. He said United was not disclosing the cost of testing.
"We are still evaluating what that business model looks like."
He said the airline hoped the scheme would encourage the UK and US governments to engage "around a robust dialogue" that would end quarantine restrictions.
United already has a testing corridor in place between San Francisco and Hawaii and McMillan said the airline hoped to have on-site testing in place at all its US hubs.
He added United's procedure would ensure no mistakes were made about testing requirements. There were "almost 300" different approved tests being offered, he said. "Making sure you take the right one can be overwhelming."