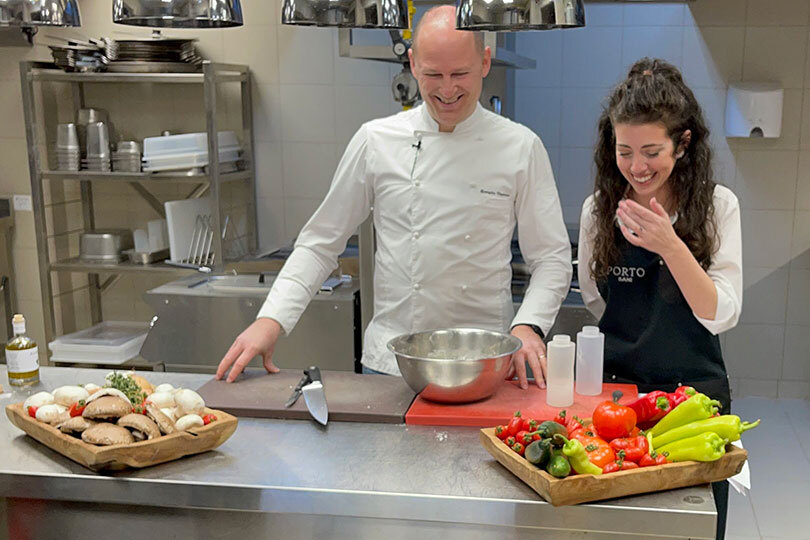 Sani Resorts' chef George Vagionas and Alkioni Kloussiadis help agents make a Greek feast
When was the last time you went to an event in travel? Saw peers and pals from the industry in person? Like me, that's probably now approaching a year ago: I did manage a handful of one-to-one meetings between lockdowns, but the calendar has been understandably bereft of the kind of real-life gatherings we used to be treated to on a regular basis.
As we reach the 12-month milestone since Boris Johnson's declaration that we all "stay at home", we have adapted as best we could to living into a digital world. It's no substitute, but at least staying in touch with our travel community via social media, virtual events and Zooms has helped steer us through these sometimes scary and isolating times. They've given us a digital window into people's lives while we await a real one.
But of course there's also been much said about "Zoom fatigue"; that draining feeling you get after a few too many video-call sessions is a real thing. Unlike those old-school meetings, there's often no real break or transition from whatever task you were doing beforehand to joining the video call, no leg-stretch or laugh with colleagues as you await the meeting – just moving from one screen activity to another, so the blood doesn't really get a chance to flow. Even if you're someone who worked from home before the crisis anyway, coping with this new level of digital engagement has been tough to take.
In a physical meeting, you might look down, look around, look at other things in the room, but with a Zoom/Teams session, you have to maintain eye contact and concentrate more intently on what's being said because it's happening on a small screen in front of you, which all makes it more draining. It's polite to other speakers to show you're still engaged on-screen, and this required intensity is another reason they zap more energy.
And that's before tackling the anxiety of the technology itself: "can you hear me?" must be one of the most-used phrases of 2020, as we all mute/unmute or drop-out altogether as we lose WiFi. We're also having to see our own faces more often, feeling self-conscious, perhaps worried about how we look, how our background looks and whether there will be interruptions, door knocks, children and pets wandering in and out, which all take their toll on our psyche – add to that the major stress of working in the travel industry during a pandemic of course.