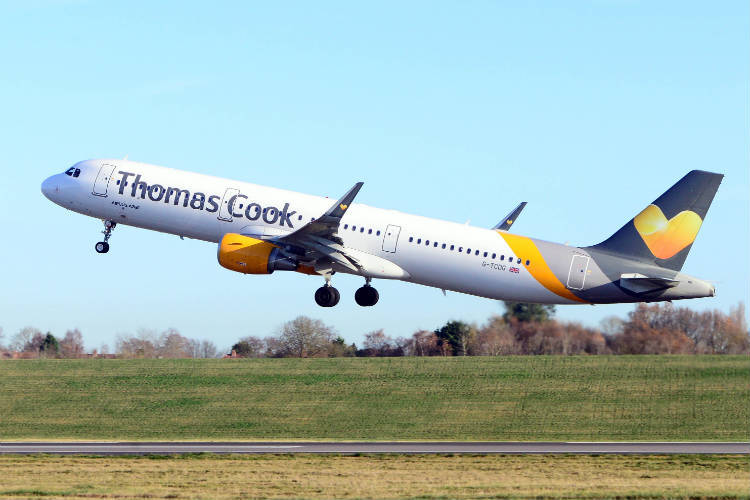 thomas cook AIRLINES A321
It comes after the group reported a £163 million after-tax loss for 2018, late last year.

In a trading update this morning (Thursday, February 7), Cook said it was clear the company needed "greater financial flexibility and increased resources to accelerate the execution of our strategy of differentiation" – that is, to invest in strengthening its own-brand hotel portfolio; further digitising its sales channels; and driving greater efficiencies across the business.
"As a result, we are today announcing a strategic review of our group airline," Cook said.
"We are at an early stage in this review process, which will consider all options to enhance value to shareholders and intensify our strategic focus. We will provide an update on this process in due course."
The update continued: "Our strategy for the airline has been to profitably grow as a leading European leisure airline with a reliable, customer-focused service.
"This has involved a continuous review of our cost structure in order to stay competitive in a highly fragmented market.
"We currently operate a fleet of 103 aircraft, of which a quarter serve long-haul destinations."
The company added that the group airline delivered strong growth in 2018 "despite facing industry-wide disruption".
"We made good progress in strengthening our seat-only offer, and growing services to third-party tour operators," Cook said.
"We carried over 20 million passengers and generated £3.5 billion in revenue, with underlying operating profits growing 37% year-on-year to £129 million."
Peter Fankhauser, chief executive of Thomas Cook Group, said: "As expected, the knock-on effect from the prolonged summer heatwave and high prices in the Canaries have impacted customer demand for winter sun.
"Where summer 2018 bookings started very strongly, bookings for summer 2019 reflect some consumer uncertainty, particularly in the UK. Our decision to reduce capacity will both mitigate risk in our tour operator business and help our airline to consolidate the strong growth achieved last year.
"We've made further good progress in transforming our business with a rigorous focus on managing our cost base while innovating to deliver high-quality holidays for our customers.
"Our strategic alliance with Expedia is now live in all our key markets. In addition, we are set to open 20 new own-brand hotels this summer, including three Casa Cooks and eight Cook's Clubs, and have announced two new hotel projects with Fosun in China."
Of the airline strategic review, Fankhauser added: "We are at an early stage in this review process which will consider all options to enhance value to shareholders and intensify our strategic focus."
Group revenue was broadly unchanged in the first quarter, rising by 1% on a like-for-like basis to £1,656 million, led by strong customer demand for Turkey and North African destinations, offsetting weaker demand for Spain.
Gross margins were lower, reflecting a continuation of the highly competitive market conditions in the UK at the end of the summer season, and weaker demand for winter holidays in the Nordics, Cook said.
Currency translation movements during the quarter led to an impact of £4 million.
On a reported basis, Cook's loss from operations increased by £7 million, "reflecting an improvement in separately disclosed items".
The seasonal loss was led by the group tour operator, it said, where a weaker performance in the UK and Northern Europe was partially offset by a good performance in continental Europe.