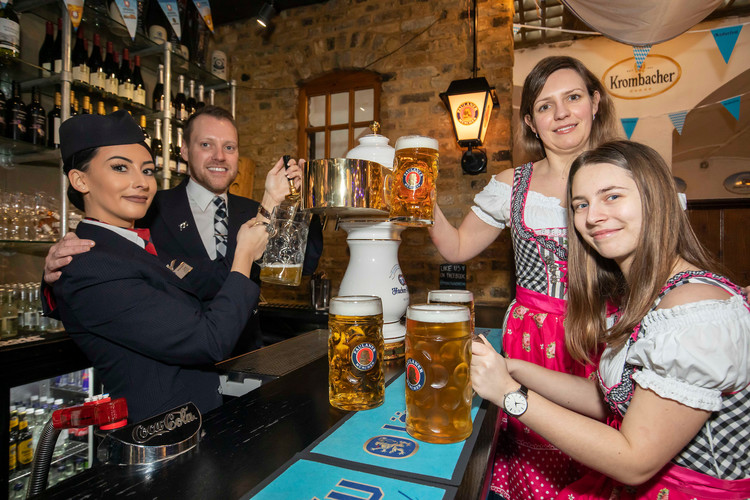 britishairways_216861351731978 (1).jpg
The year-round, three-times daily service to the Bavarian beer capital – home to Oktoberfest – leads in from £64 each way (hand baggage only) based on a return journey.

It expands BA's German network from London City to four routes. BA has also increased frequency to Berlin from London City to 18 return flights a week.

In total, BA now operates 82 return flights a week to Germany (Munich, Berlin, Dusseldorf and Frankfurt) and 34 routes from London City airport.

The route was celebrated with a traditional Bavarian toast at London's Munich Cricket Club.

Luke Hayhoe, BA general manager commercial and customer, said: "Germany is such an important destination for both business and leisure customers, so the addition of Munich to our schedule has been welcomed by everyone who flies from London City.
"With well-timed frequent flights there are plenty of options for customers who either want to do a day trip or stay for longer."

Richard Hill, London City airport chief commercial officer, added: "Munich is a German powerhouse of a city, attracting leisure and business travellers alike.
"Its gaining popularity is reflected in the frequency of this new three-times-a-day British Airways service, which makes travel between Munich and the centre of London easier and quicker thanks to the convenience of London City airport."
Flights depart London City 8.10 arriving Munich 10.55am Monday to Saturday; 1.50pm arriving 4.35pm Monday to Friday and Sunday; and 6.40pm arriving 9.25pm Monday to Friday and Sunday.

Return flights depart Munich at 6.45am arriving London City 7.40pm Monday to Saturday; 12.20pm arriving 1.25pm Monday to Friday and Sunday; and 5.15pm arriving 6.10pm Monday to Friday and Sunday.