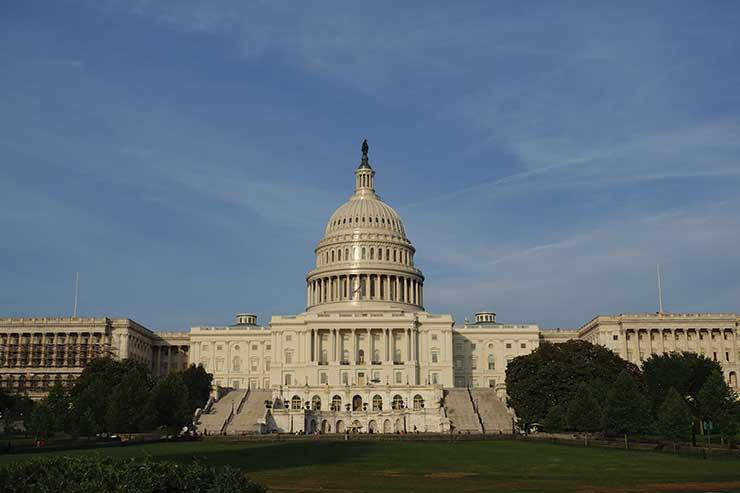 Capitol Building, Washington DC
The Department for Transport (DfT) said the agreement will replace the current US-EU open skies treaty once Britain leaves the union on March 29.
It is one of nine bilateral air services arrangements secured by the government to replace it with the others being for Albania, Georgia, Iceland, Israel, Kosovo, Montenegro, Morocco and Switzerland.
The DfT added the political declaration between the UK and EU also provides for a comprehensive air transport agreement to ensure connectivity for passenger and cargo flights through market access for UK and EU airlines.
However, the agreement is yet to be ratified by Parliament where many MPs have vowed not to back the deal.
Transport secretary Chris Grayling said: "The UK and US have a special relationship which has helped shape the modern world and there is no better example of this than in aviation.
"Our transatlantic flights have helped to bring our countries even closer together, strengthening our ties and boosting our economies.
"This new arrangement and those concluded with 8 other countries around the world are proof that the UK will continue to be a major player on the world stage after we leave the EU."
The move has won backing by airlines in the UK.
IAG chief executive Willie Walsh said: "It's critical that Britain maintains full access to international aviation markets so it can continue to develop its global trading links. This agreement is a significant positive development which we welcome.
"The agreement, which closely follows the Model US Open Skies Agreement, facilitates strong competition and is clearly pro-consumer.
"The US is a major destination for British businesses and tourists while the UK welcomes many American visitors to its shores".
Virgin Atlantic chief executive Craig Kreeger added: "We are thrilled that UK and US governments have reached an agreement which will enable our customers to continue travelling as normal between the UK and US post Brexit.
"We would like to thank the Department for Transport, Department of Transportation and Department of State for their diligence and hard work in finalising this agreement far in advance of the March 2019 deadline which will provide much needed reassurance for both business and leisure travellers.
"We will continue to work with governments and stakeholders across our network to ensure our customers can continue to travel seamlessly."