Sir Rocco Forte launches villa collection
02 Mar 2021
by April Hutchinson
Rocco Forte Hotels is to launch its first collection of branded villas at the group's property in Sicily, Verdura Resort, on 1 April.
Well timed for a perceived boom in private residences and villa rental off the back of the pandemic, the 20 Rocco Forte Private Villas will offer privacy combined with the services of the hotel.
The villas are located on a hillside within the Verdura estate and are divided into two categories, with either three or four bedrooms and large private pools in landscaped gardens.
"This is our first venture into villa accommodation and we have carefully studied the market to ensure we deliver the highest standards of design and service," said Sir Rocco Forte.
"The same meticulous attention to detail which we provide in all our hotels will be enhanced by an added level of tailored opportunities. The villas will offer further choice to our Verdura guests, enabling them to enjoy an even greater level of privacy whilst still having full access to all the amenities of the resort."
Like all the group's hotels, design of the villas has been individually executed by Forte's sister, group co-founder and director of design, Olga Polizzi.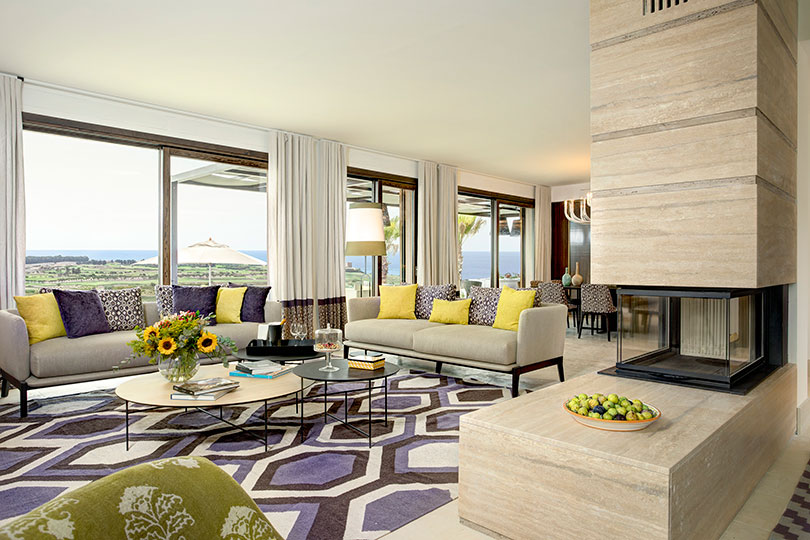 She said the architecture of each of the two-level villas was "inspired by Sicily's natural beauty" and incorporates the characteristic features of a traditional Sicilian 'baglio' building, with wooden beams, flat roofs and external stairs.

Interior design pays homage to emblems of Sicilian art, such as the gilding of the late Byzantine mosaics at the Palatine Chapel of Palermo and the geometry of floors in the island's Monreale Cathedral.
The resort's private beach, bars and restaurants, spa, championship golf courses, tennis courts and Kids' Club can all be used by villa guests while services such as golf buggies, electric bikes, two rounds of golf per villa and daily housekeeping are included in each stay.
The Rocco Forte Private Villas have an opening offer (book by 31 March) from €1,760 per night, which includes daily breakfast at the resort and two green fees per stay before 10 June.
Verdura is a 230-hectare park, with 203 rooms and suites at the hotel, Verdura Spa, golf courses designed by Kyle Phillips and leading figures of the Rocco Forte Sicilian Open in 2017 and 2018 (European Tour stage), six tennis courts, a 60-metre infinity pool, a football pitch and jogging paths through the estate's olive and citrus groves.

The group is also due to open Villa Igiea in Palermo, Sicily this year, and The Westbund Hotel in Shanghai.