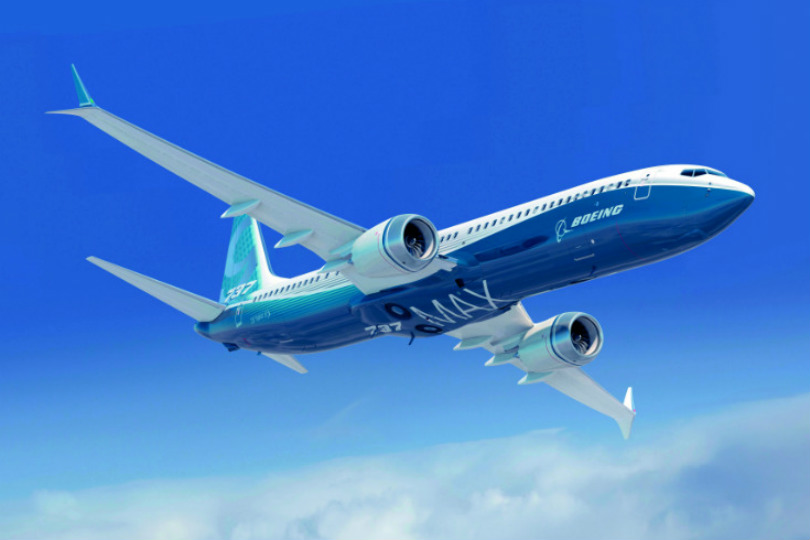 The worldwide fleet of Boeing 737 Max aircraft has been grounded since March 2019
A report from US politicians found Boeing had "failed in its design and development of the Max", while US aviation regulator, the Federal Aviation Administration (FAA), was criticised for its "grossly insufficient" oversight of Boeing.
Critical faults with the 737 Max's systems led to the crashes of Lion Air flight 610 in October 2018 and Ethiopian Airlines flight 302 in March 2019, killing a total of 346 people onboard the two aircraft.
The worldwide fleet of 737 Max aircraft remain grounded while Boeing makes changes to its systems.
"The Max crashes were not the result of a singular failure, technical mistake, or mismanaged event," said the 250-page report from the House of Representatives' Committee on Transportation and Infrastructure.
"They were the horrific culmination of a series of faulty technical assumptions by Boeing's engineers, a lack of transparency on the part of Boeing's management and grossly insufficient oversight by the FAA.
"In several critical instances, Boeing withheld crucial information from the FAA, its customers and 737 Max pilots.
"The committee found that the FAA's current oversight structure with respect to Boeing creates inherent conflicts of interest that have jeopardised the safety of the flying public."
Boeing responded to the report by saying it had been "hard at work strengthening our safety culture and rebuilding trust with our customers, regulators and the flying public".
"We have learnt many hard lessons as a company from the accidents of Lion Air flight 610 and Ethiopian Airlines flight 302, and from the mistakes we have made," said Boeing in a statement.
"As this report recognises, we have made fundamental changes to our company as a result, and continue to look for ways to improve. Change is always hard and requires daily commitment, but we as a company are dedicated to doing the work."
Boeing said the revised design of the 737 Max had now undergone 1,300 test flights, and insisted the company "will have full confidence in its safety" when the aircraft eventually gets clearance from regulators to return to service.
"We have also taken steps to bolster safety across our company, consulting outside experts and learning from best practices in other industries," added Boeing.