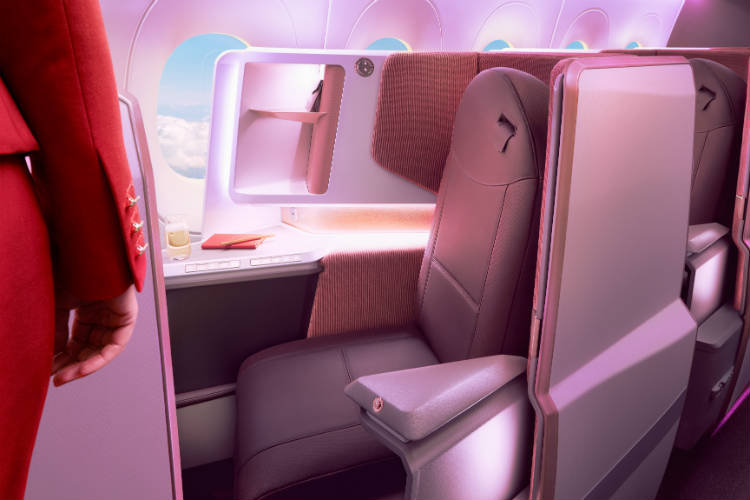 Virgin Atantic Upper Daytime A350
The airline, which is due to get its first three A350s this summer, said the new cabins would include larger panoramic windows, plus extra storage for passengers, USB charging points, high-speed Wi-Fi and an enhanced entertainment system.
As well as The Loft social space, Virgin is introducing a new Upper Class suite on the aircraft, which will initially fly on routes from Heathrow to New York JFK, Atlanta and Los Angeles.
Virgin has ordered 12 A350-1000 aircraft, which will feature 44 seats in Upper Class, 56 in Premium economy and 235 in economy.
All aircraft are due to be delivered by the end of 2021, with Virgin planning to eventually operate the A350s from both Heathrow and Gatwick.
The airline, which is 49% owned by US carrier Delta, last week announced the A350s would sport five new "flying icons" to champion the diversity of Virgin's customers, instead of the traditional Flying Lady figurehead.
Virgin and Delta have also announced plans to offer up to 18 daily flights from Gatwick to New York JFK and Boston from summer 2020.
The new flights will see Delta return to Gatwick for the first time in eight years after it relocated its entire London operation from the Sussex airport to Heathrow in 2012.
Virgin has also recently revealed two new routes – Heathrow-Tel Aviv flights will launch on September 25 while its first South American route from Heathrow to Sao Paulo will debut next April.