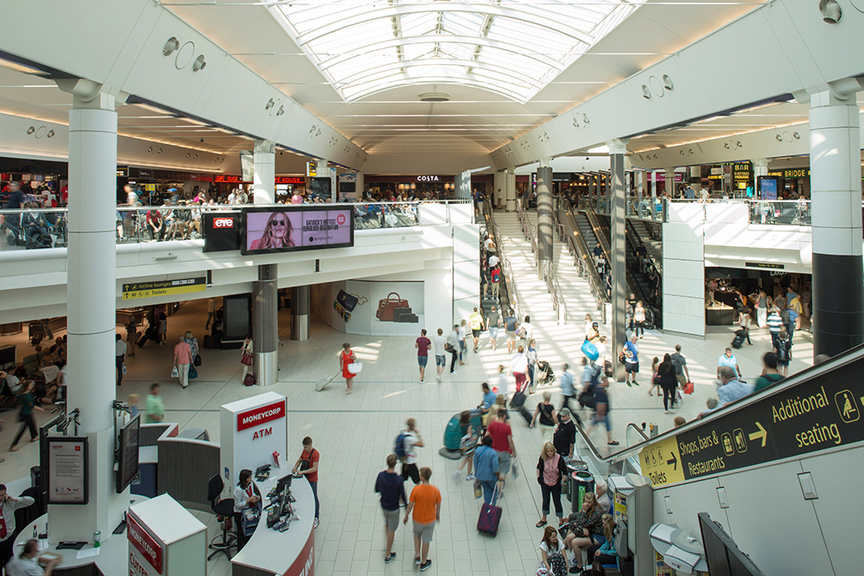 Shopping in places such as Gatwick's South Terminal will be a different experience from January
From January, tax free sales in airports of goods such as electronics and clothing for passengers travelling to non-EU countries will end. The government said this followed concerns "that the tax concession is not always passed on to consumers in the airport".
VAT refunds for overseas visitors in British shops will also be removed. Overseas visitors will still be able to buy items VAT-free in store and have them sent direct to their overseas addresses, but the "costly" system of claiming VAT refunds on items they take home in their luggage will be ended.
The new rules apply to England, Wales and Scotland.
Karen Dee, chief executive of the Airport Operators Association, said: "By removing the airside statutory concession, the government is needlessly harming the revenue of retailers and airports. Passengers will be disincentivised from making purchases as they travel through the UK.
"Many foreign visitors will now choose to go elsewhere, attracted by the beneficial tax and excise regimes of our European competitors.
"The government have once again shown a complete lack of awareness for the jobs and businesses on the line in the aviation sector. Our industry is weathering the worst crisis in the history of civil aviation; it can scarcely afford another hammer blow like this."
One boost to airport retailers is that UK duty on alcohol and tobacco bought on the way to an EU country will no longer be due, cutting £2.23 off a bottle of wine. Inbound passengers will now be able to import three crates of beer, two cases of still wine and one case of sparkling wine without paying UK duties.