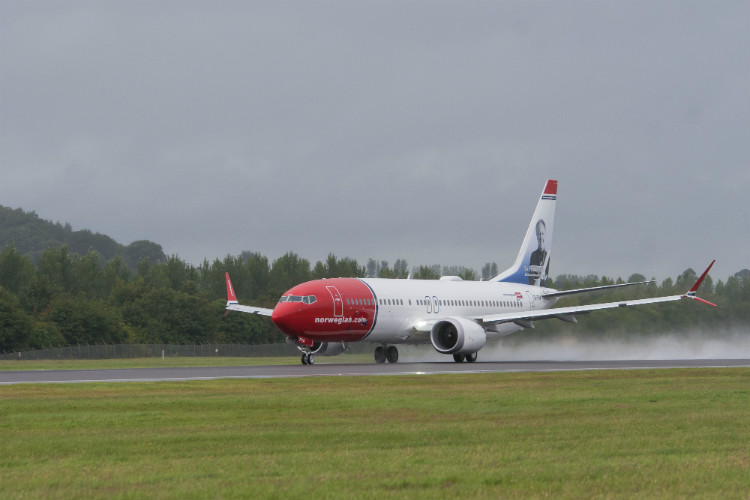 Norwegian Boeing 737 MAX.jpg
The low-cost carrier has hailed "productive meetings" with Boing over how it can "manoeuvre through the difficulties" arising from the aircraft having been taken out of service on safety grounds.

Investigations are ongoing into two fatal crashes involving them 737 MAX in the past five months.

Lion Air flight 610 came down in the sea shortly after take-off from Jakarta last October before Ethiopian Airlines flight 302 last month crashed en route to Nairobi.

Boeing is currently working on a software update to fix the system believed to have been active during both crashes.

In total, 2,961,840 passengers travelled with Norwegian in March, an increase of 145,676 on the same period last year.

Total traffic grew 9% and seat capacity 11% with Norwegian operating at a load factor of 85.4%, down 1.3 percentage points on last year.

Norwegian said it was important to note the positive effect of Easter, which fell in March last year as opposed to April this year.

The carrier operated 97.4% of scheduled flights in March, stressing the passenger impact of the 737 MAX grounding was "minimal".
Norwegian was operated 18 of Boeing's 737 MAX aircraft when the model was grounded.

More than 80% of Norwegian flights departed on time.

"Despite the fact our Boeing 737 MAX aircraft were taken out of production this month, the regularity is satisfactory," said Norwegian chief executive Bjorn Kjos.

"Our dedicated colleagues have been working day and night to find solutions for our customers. Those affected by the changes have shown great understanding of a situation that is beyond Norwegian's control and I would like to thank them for that.

"We have had some productive meetings with Boeing where we have discussed how we can manoeuvre through the difficulties the MAX situation is causing Norwegian."

Norwegian also took delivery of a brand new Boeing 787-9 Dreamliner last month.