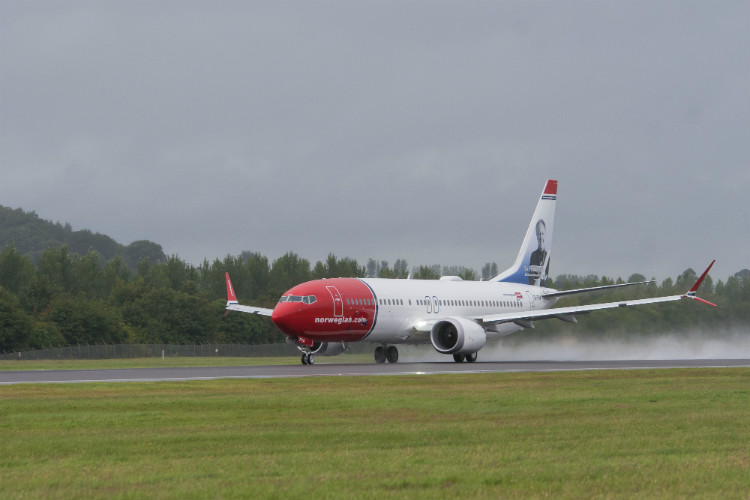 Norwegian Boeing 737 MAX.jpg
The airline on Monday afternoon (March 25) revealed its full contingency plans to mitigate the impact of the 737 MAX being taken out of service on safety grounds on its Irish transatlantic routes.

The 737 MAX was grounded earlier this month after a second fatal crash involving the aircraft in just five months, which came less than two years after the aircraft entered service. Norwegian was operating 18 737 MAX aircraft when it was grounded worldwide.

It continues to temporarily withhold sales of routes operated by the 737 MAX to ensure it is not required to pull services it cannot deliver.

Norwegian has been combining flights and reallocating aircraft since the 737 MAX was grounded to "reduce cancellations and minimise inconvenience to passengers".

It is currently deploying a 344-seat 787-9 Dreamliner to operate flights between Dublin airport and New York Stewart airport. This service combines the airline's Dublin-Stewart and Dublin-Providence (Boston) flights, with Providence passengers taking around a three-hour, 185-mile bus journey to Providence – about an hour south of Boston – to complete their journey.

From March 31, Norwegian will add additional temporary transatlantic services from Dublin using a Boeing 737-800 aircraft.

The aircraft will operate Norwegian's new Dublin-Hamilton (Toronto) route four times a week on Mondays, Wednesdays, Fridays and Sundays.

It will also fly Norwegian's airline's Dublin-Providence route three times a week on Tuesdays, Thursdays and Saturdays.

Passengers flying from Shannon to New York Stewart and Providence over April 1-10 will be transferred onto Norwegian's Dublin-Stewart Dreamliner service. Norwegian will lay on buses from Shannon to Dublin during this period.

Passengers flying from Cork to Providence over April 2-9 will be transferred onto Norwegian's Dublin-Providence service, with buses to take them between Dublin and Cork and vice versa.

Norwegian says it is working on "more permanent measures" to operate normal services from 11 April with updates to follow in due course.

"Norwegian has worked continuously since the grounding of the Boeing 737 MAX to ensure that customers travel plans can continue with minimal disruption," said Norwegian in a statement.

"The airline has rerouted customers and offered passengers the chance to rebook or receive a full refund free of charge if they no longer wish to travel.
"The airline is also combining flights and reallocating aircraft within its own network to keep cancellations to a minimum and minimise inconvenience for its customers."