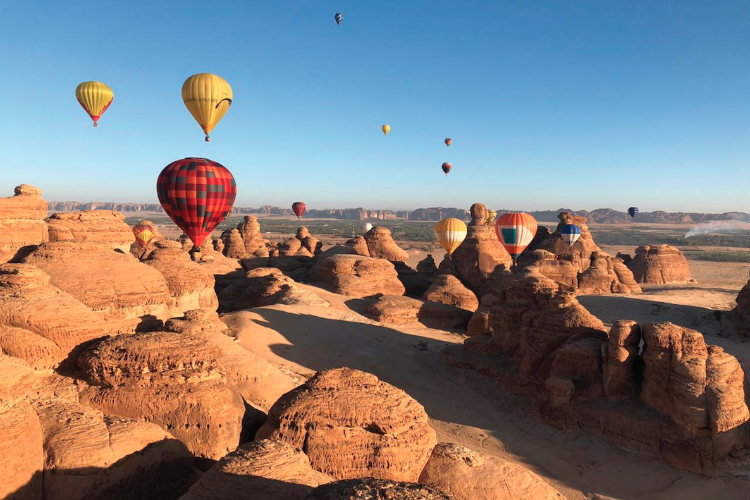 Attractions include the Al-Ula balloon festival
Key features cited by the country include five Unesco World Heritage Sites, its Red Sea coast and the Empty Quarter – the largest contiguous sand desert in the world.

A number of new tourist attractions are in development, including the futuristic city of Neom, the Qiddiya entertainment city near Riyadh and "luxury destinations" on the Red Sea.

Saudi Arabia's Vision 2030 plan seeks to grow the country's tourism sector to represent up to 10% of its GDP (currently 3%) by 2030, and reduce its dependence on oil revenues.

It expects to increase international and domestic visits to 100 million a year by 2030 and create a million jobs.

Airport capacity, meanwhile, is expected to increase to 150 million passengers a year, while the country is aiming to add around 500,000 additional hotel rooms over the next decade.

Its Vision 2030 plan states: "Saudi Arabia boasts a surprisingly diverse range of landscapes, including the green mountains of Asir, the crystal waters of the Red Sea, the snow-covered winter plains of Tabuk and the shifting sands of the Empty Quarter."

Ahmad Al-Khateeb, chairman of the Saudi Commission for Tourism and National Heritage, said: "Opening Saudi Arabia to international tourists is a historic moment for our country.

"Generous hospitality is at the heart of Arabian culture, and we look forward to showing our guests a very warm welcome. Visitors will be surprised and delighted by the treasures we have to share."