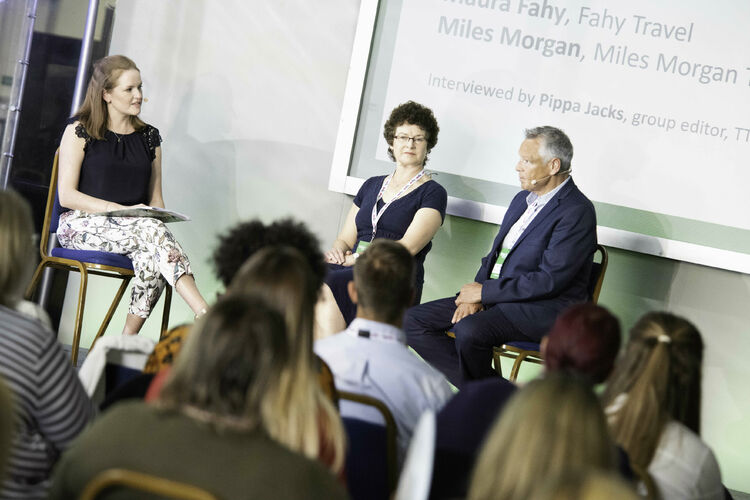 TTG new to touring and adventure Miles Maura.jpg
Miles Morgan, owner of Miles Morgan Travel, and Maura Fahy, managing director of Galway's Fahy Travel, offered their advice to delegates at TTG's New to Touring and Adventure Festival on Monday (24 June), having substantially boosted their business within the sector in recent years.
Morgan, who will soon open his 16th store and was named Top Touring and Adventure Agency 2019 at the TTG Top 50 Travel Agencies awards, said "knowledge was power" for an agent in tackling misconceptions over touring.
"Some people think escorted touring is just driving around on a scaggy bus," he quipped – urging delegates to seek the help of operators for staff training and client events.
"Everyone who reads TripAdvisor thinks they are a travel agent – so get yourself clued up and use operators' experience and knowledge."
Morgan said his shops ran a mix of supplier- and destination-centric events and suggested there be a booking desk operating at the event to convert on-the-spot enquiries.
He urged delegates not to worry about the number of guests attending events, saying his stores found "about 20 people" to be the most fruitful, and also spoke of the benefit of organising one-on-one appointments between clients and suppliers allowing them time to "really get excited by the product".
Fahy meanwhile, whose team was named the Republic of Ireland's Top Agency during this year's TTG Top 50, advised delegates do their research on would-be clients.
Her agency had originally targeted students to "little effect" but after commissioning a market study and investing in PR had changed tack to more mature solos.
"Once we got that right it really started to fly," she said – predicting a year-on-year adventure sales rise of "up to 40%" this year for her agency.
She also shared her desire to establish a dedicated touring and adventure department consisting of "potentially two people" in the near future.