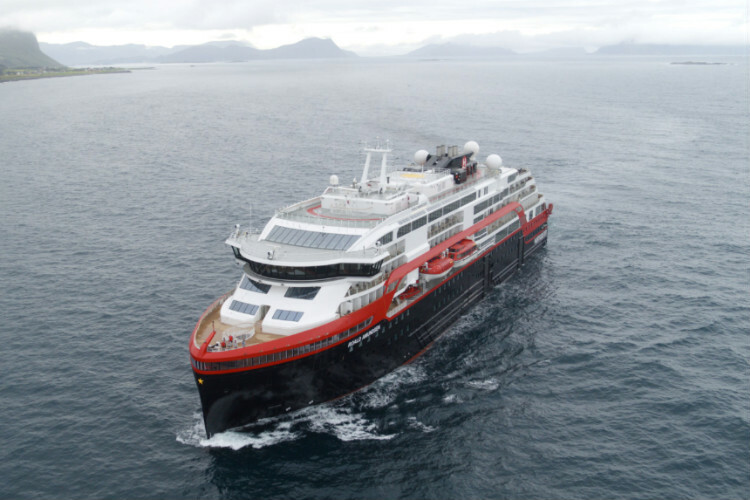 Hurtigruten's Roald Amundsen will sail UK waters
The Norwegian line will bring back all but two of its 16 ships during August and September, having reintroduced MS Finnmarken as the world's first ocean cruiser to return to sailing in mid-June. Currently, Hurtigruten has five ships operating international and domestic itineraries with limited capacity and strict hygiene measures.
The UK itineraries will be on the hybrid-powered MS Roald Amundsen. They will depart Portsmouth on 2 September, Liverpool on 7 and 17 September, and Glasgow on 12 September. Off-the-beaten-track destinations will include the Isles of Scilly, Fowey, Rathlin Island, Fort William, Oban, Fishguard and Waterford.
Sailings will operate six-, 11- or 21-day itineraries with 350 guests – about 65% passenger capacity – and are priced from £999pp.
Hurtigruten chief executive Daniel Skjeldam said: "We are thrilled to announce our new British Isles itineraries, and put a lot of pride into handpicking the destinations.
"We wanted to make sure guests can enjoy the British Isles like never before, visiting remote isles, seeing rugged nature and amazing wildlife, and enjoying charming coastal cities, towns and villages while avoiding the mass tourism crowds."
Hurtigruten is also returning to Arctic expedition cruising from mid-July, with MS Roald Amundsen and MS Spitsbergen offering six to 15 day voyages on the Arctic archipelago of Svalbard.
Seven additional ships will be introduced on the Bergen to Kirkenes voyage along the Norwegian coast in August and September. Hurtigruten currently operates four ships on this itinerary.