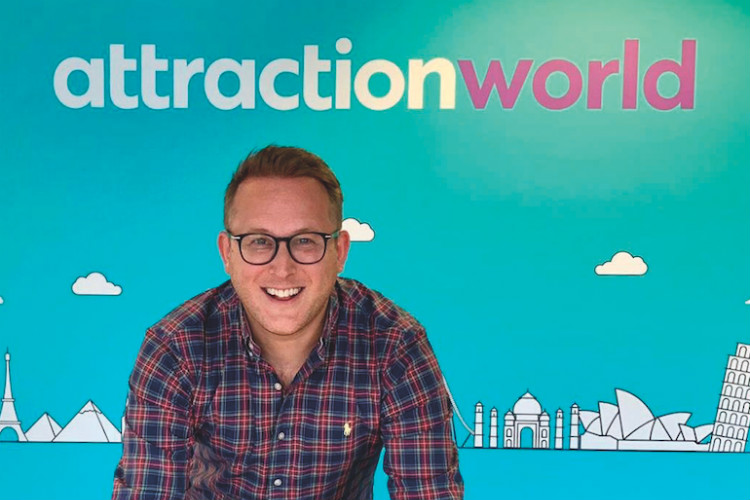 Nicholls has been appointed the attraction ticket specialist's new chief commercial officer
Olly Nicholls joined the Birmingham-based brand last week after nine years as director of global distribution, commercial partnerships and advertising at the trade-friendly City Sightseeing Worldwide.
In this newly created role, Nicholls' remit will include leading Attraction World's product and sales teams, although he revealed his intention was to grow headcount and "support our agent network further".
In his first trade interview in the new role, Nicholls acknowledged the past two years may have caused some uncertainty for agents, with many familiar faces coming and going.
But with a trade sales team now firmly in place – Sarah Ashmore in the south and Kelly Hayre (formerly Giblin) in the north – Nicholls said he was committed to "rebuilding the image of the brand".
In his first weeks Nicholls – who has a strong heritage with agents, having worked for Tui for many years before joining City Sightseeing – will be circulating around the firm's departments and hitting the road to visit agents and supplier partners to establish their views on Attraction World, before working with group chief executive Paul Stobbs to draw up a growth strategy.
"I want to ensure Attraction World is at the forefront of the industry and I truly believe the opportunity lies in close partnerships," said Nicholls.
"Agents will be a hugely valuable part of our strategy, and I want them to know and feel that.
How can we serve them better? Do we need to add support to the trade sales team?"
Nicholls added he would be analysing the business "from the bottom up".
"I want to understand what the feel is in the market generally, as well as towards the Attraction World brand.
"This is an opportunity to assess previous challenges and draw a line in the sand. We have some fantastic people – many of whom have worked for Attraction World for years. The future is bright."