Surfing and seaside nostalgia in Santa Cruz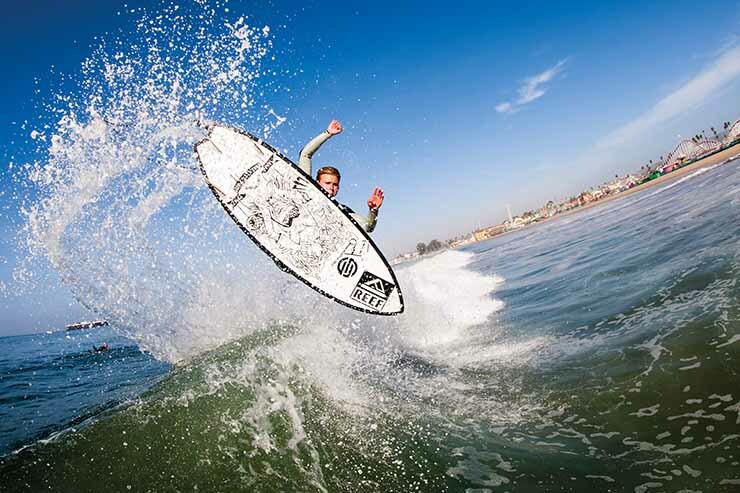 Win a place on the Visit Santa Cruz County fam trip!
When it comes to choosing a laidback Californian destination, Santa Cruz should be on your radar for all types of travellers, from couples to families. Easily accessible from San Francisco (one-and-a-half hours by car) and Los Angeles (one hour by plane), the county adds beach vibes, nature-rich experiences and adrenaline-inducing activities to the most memorable twin-centre trips.
Nature's finest
Wave chasers will be pleased to hear Santa Cruz is a surfer's paradise. The county even claims that it was on this stretch of Californian coastline that the sport was first practised in the US. As the story goes, three Hawaiian royals came to the coast in 1885 and used redwood boards to ride the waves where the San Lorenzo River meets the ocean.
But that's not the only surfing-related first that Santa Cruz claims for its history books. Jack O'Neill, inventor of the wetsuit and founder of the popular high-street swimwear and surf kit stores, called this city home. The Capitola O'Neill store on 41st Avenue even has the original wetsuit top on display, and Steamer Lane, the go-to spot to watch surfers and get involved in the surfing action, offers three of the specialist shops.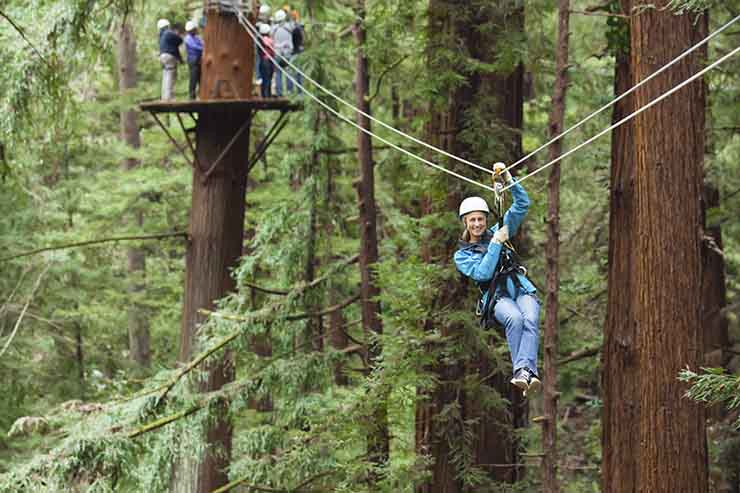 North of the city, visitors can be at one with nature. They can get lost in more than 40 acres of giant old-growth redwood trees – the tallest of which tops out at 277 feet high and measures 16 feet wide – in Henry Cowell Redwoods State Park. Biking and zip-lining are the more thrilling ways to explore the forest, but the Cowell Highlights Loop walk (for those with a whole day) and the shorter Redwood Grove Loop trails give visitors the chance to take in the surroundings at their own pace and learn about the ecosystem and history of the park en route. It's also worth popping into the visitor centre to check out the 805-feet-high Observation Deck, which offers sweeping views of Monterey Bay.
Elite entertainment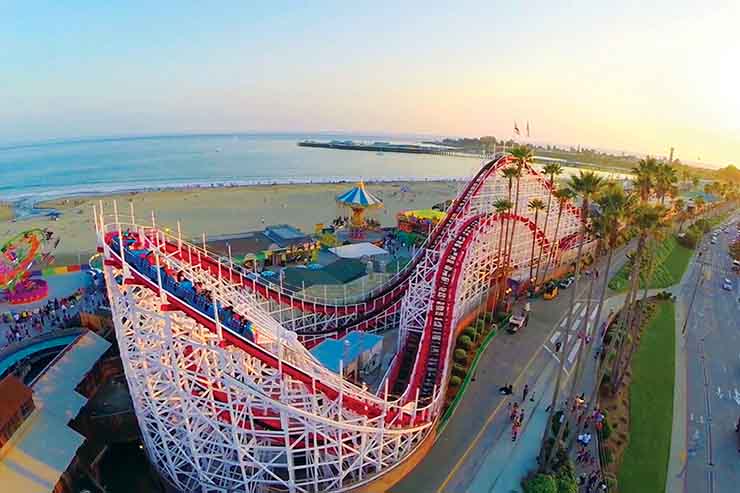 When travellers return to the city centre, they won't be short of things to do. Advise families (and big kids) to make a beeline for Santa Cruz's famous Boardwalk, where more than 66 million thrill-seekers have ridden the Giant Dipper rollercoaster since it opened in 1924. The attraction is such a striking sight that it's even made an appearance in the latest Jordan Peele thriller, Us.
When visitors have soaked up enough of Santa Cruz's seaside nostalgia, there's a host of contemporary events that take place throughout the year. Whether it's arts, culture, food or crafts your client is interested in, Santa Cruz is a wise and wonderful choice for a Californian getaway any month of the year.
Recommended hotels
Beach bolthole
Dream Inn Santa Cruz is the only beachfront hotel in the county, so is the place to stay for the best vistas of California's Instagram-worthy beach sunsets. Pair these dreamy views with dining on freshly caught and sustainable Santa Cruz seafood in the newly opened Jack O'Neill Restaurant and Lounge and guests will never want to leave.
Mountainside resort
Best suited to those with larger budgets, Chaminade Resort & Spa looks down on Monterey Bay and over the Santa Cruz Mountains. It offers a peaceful ambience, bohemian bedrooms and wow-factor wedding packages.
Family-friendly inn
The Beach Street Inn and Suites is run by a family with decades of hotel experience, so the inn is about as family-friendly as they come. It's within walking distance of Santa Cruz's best attractions, including the Boardwalk.
Inclusive accommodation
Rustic rooms, fire pits and modern cuisine are the name of the game at the hipster Hotel Paradox. Guests might like to relax in a poolside cabana, hire an electric bike or explore a Californian wine trail. This hotel also hosted Santa Cruz Pride earlier this month.