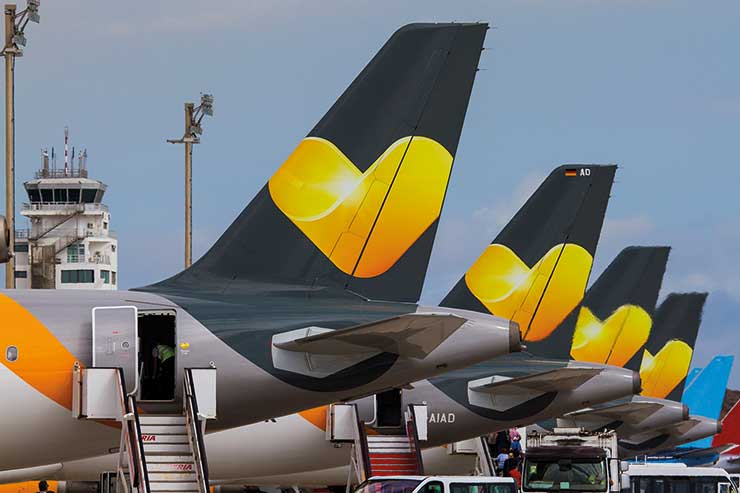 Thomas Cook tailfin livery
Both Fitch and S&P confirmed they had downgraded Cook's credit rating on Thursday (23 May), with Fitch saying the company could face "tight liquidity" later this year due to "weaker sales".
The move helped send Cook's shares down a further 10% during early trading on the London Stock Exchange on Thursday morning from 12.2p to 11p before recovering to 11.5p.
MORE: Thomas Cook confirms bid for Nordic operations
Cook's future appears to rest on a successful sale of its airline, the operator only able to tap into an extra £300 million in funding from October if it has made "demonstrable progress" in the sale.
Fitch said: "The downgrade reflects the tight liquidity we expect Thomas Cook Group to face towards the end of 2019 should it not sell its airline division or be able to draw on the planned £300 million senior secured facility."
"We expect Ebit (earnings before interest and tax) and profitability to be lower than our previous forecasts as the company faces lower bookings in its main markets, continuing fierce competition and Brexit uncertainty."
S&P, meanwhile, said it was cutting Cook's credit rating due to "soft market conditions" and uncertainty over the sale of the airline.
On Friday (17 May), analysts at Citi said Cook's shares were effectively "worthless" sending them tumbling from 19.6p to as low as 10.8p.
Shares fell even further to a low of 8.4p on Monday (May 20), after reports that Cook's Nordic payment card processor wanted to extend the period it held on to customers' cash to several weeks.
Cook declined to comment when approached by TTG.