Castaway in the Maldives: Trying out one of the hottest new resorts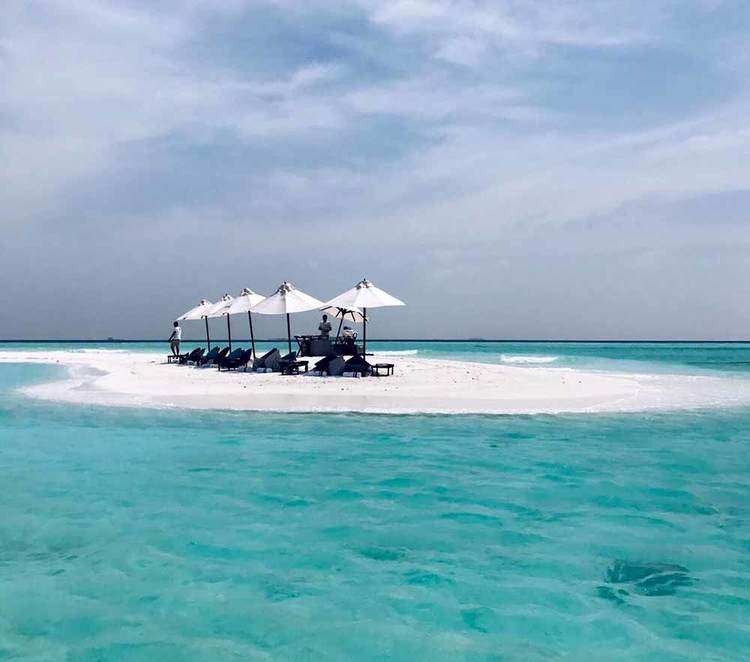 With more years than I care to mention in this job, it takes something very special to leave me speechless, but recently, it took nothing more than a patch of sand.
The day was as beautiful and scorching as hundreds of others in the Indian Ocean. But on this particular afternoon, we hopped from the large yacht that had carried our group excitedly from the jetty onto a tiny wooden boat with little more than an engine. We pootled off into what seemed to be the middle of nowhere, only to be rewarded minutes later with a sandspit in a lagoon the word turquoise could have been invented for.
Deposited on the beach, I tried to soak up the scene – the pure white of the sand, the colours in the water, the fact that sun loungers had been carved out of the sand and the mirage of three men from the resort waiting for us with chilled champagne. Settled into our sand 'chairs', shaded by umbrellas, we were served a healthy lunch in bento boxes. It was sheer bliss.
Standing out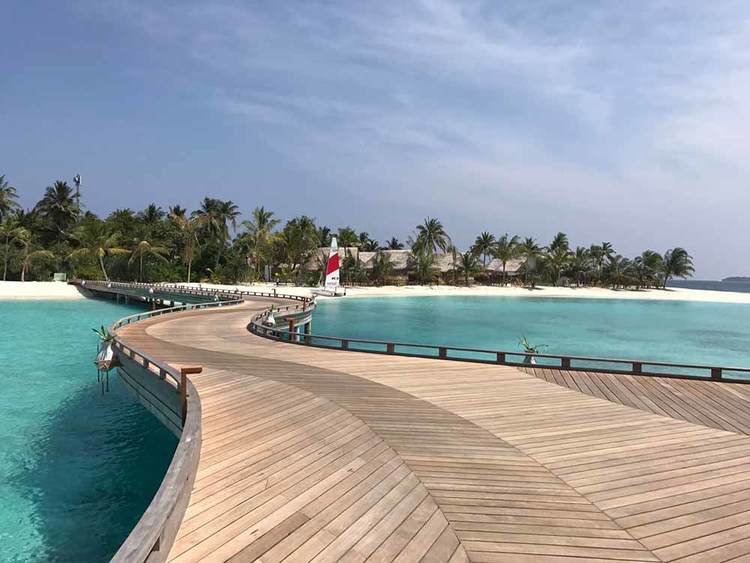 It's tough to stand out in the ever-competitive Maldives. But in a world of futuristic-looking wine cellars, underwater restaurants, giant overwater residences and super-stylish yachts – perhaps simply going back to nature and offering a 'Robinson Crusoe' experience can actually be the biggest luxury of all.
It also helps of course that the people behind Milaidhoo – Universal Resorts – have years of experience, having launched Baros (only the third-ever resort in the whole country) in 1973. Fast forward 43 years, and they opened Milaidhoo as the modern-day equivalent at the end of last year, with 50 villas set on 13 acres in the beautiful Unesco Biosphere Reserve of Baa Atoll.
Being set on quite a small island, the focus is on giving the air of a cosy boutique property (Milaidhoo is a member of Small Luxury Hotels) yet the villas are huge with delicious design to coo over – my beach villa was enormous, with a large outdoor living area with daybeds and generous-size pool steps from the beach, while the bathroom demanded to be appreciated too.
Key to making Milaidhoo stand out from the masses is a design concept rooted in Maldivian culture and created by a Maldivian architect, rather than one of the superstar designers of the international hotel scene.
A great example of this is Ba'theli (pronounced 'bah-telly', meaning a traditional wooden cargo boat), a restaurant created out of what looked to be three wooden boats, but was actually fixed structures on stilts at the end of a jetty (pictured above).
One 'boat' is the restaurant, a second is the bar-lounge (perfect for sunsets) and a third is the kitchen. Inside the restaurant, it's as if you are dining at sea (complete with air conditioning and glass floors for views of the marine life below), but with the finest interpretation of Maldivian cuisine you're likely to find anywhere in the country – including a six-course tasting menu.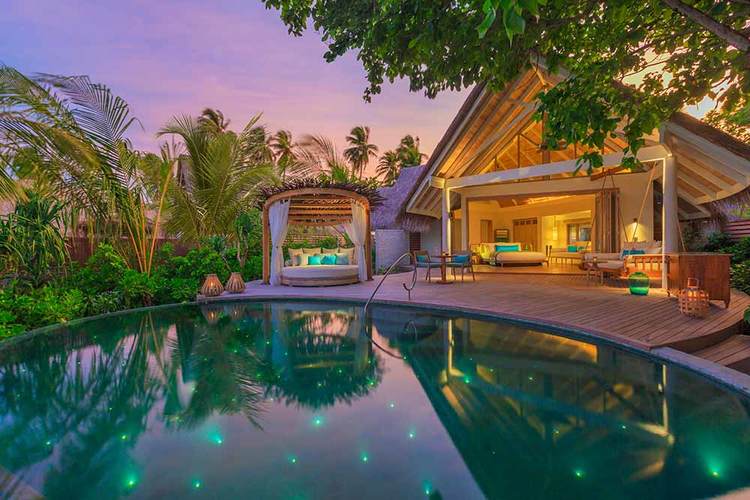 And if you want to find out how some of the Maldivian food is made, it's possible to have a cooking demonstration – we gathered around the chef's table at another restaurant, Shoreline Grill, and watched how Masroshi (a popular coconut bread and tuna snack), Garudhiya (tasty tuna broth), Kukulhu Riha (chicken curry) and Ihi Riha (lobster curry) are made.
The breakfast at indoor/outdoor restaurant Ocean was a daily joy too, with friendly staff, freshly-prepared fruit to order, a rainbow of juices offered to you table-side, divine omelettes and teeny-tiny yoghurts, cold-cuts and other treats from the chiller - lunch here was also delicious.
Pool time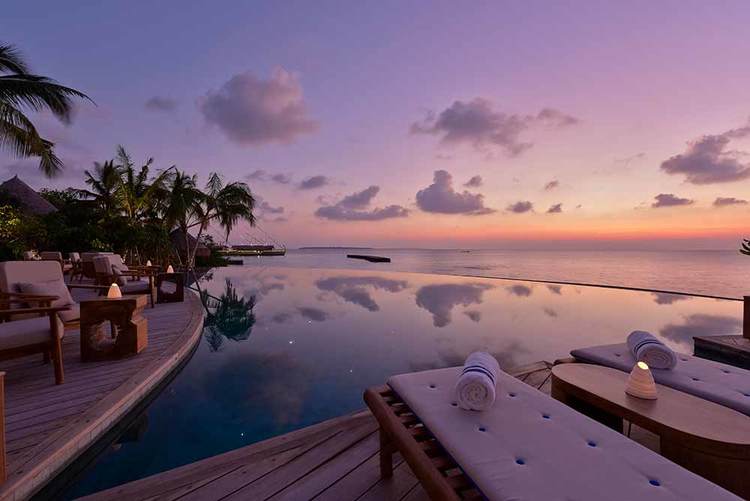 All villas on the island have their own pool, but there's also the gorgeous main infinity pool to lounge around. The resort also offers spa treatments in charming over-water rooms, a gym, games room and an impressive wine room, with delicious varieties to choose from; we were lucky enough to sample a few alongside a selection of bread and cheese.
Milaidhoo is like being in an exquisite bubble – morning yoga with soothing instructions from the yogi easing you into the day, moments of quiet contemplation on the beach, sipping glasses of pink champagne that match the sunset, Acqua di Palma bubble baths, perfect dining, private in-villa movie screenings by the pool and deep sleeps. It felt a lot longer than three nights; but it still wasn't enough.
Good to know
Take to the sky: The resort is a 35-minute seaplane flight from Maldives International Airport; the resort has a lounge at the seaplane terminal to wait in.

Out and about: As well as the desert-island day, there are local island trips to see a Maldivian village, sunset dolphin cruises, or fishing with the locals.

Delve deep: The PADI dive centre can organise house-reef diving, private diving, fluoro night dives, Manta Ray diving and nitrox dives. Snorkeling equipment is free to hire.

Play time: "Toys" include transparent kayaks, catamarans, stand-up paddle boards (SUPs) and Zayaks (imagine planting your face in a lilo and being able to see into the sea through it).

Underwater life: The jewel of Baa Atoll's Unesco Biosphere Reserve is Hanifaru Bay, where the world's largest groupings of manta rays can be seen June to November; it's also great for whale shark spotting.

Quiet time: Only children over nine are permitted at the resort.

Inclusion zone: All villas come with welcome bottle of champagne and fruit basket and laundry (excluding dry cleaning) is included too.
How to book it
Kuoni offers seven nights in a water pool villa from £4,514pp, including half-board, flights on Qatar Airways from Heathrow to Mahe and seaplane transfers (must travel April, May or June 2017), kuoni.co.uk