Grace Leo to launch hotel in Henley-on-Thames
13 Jul 2021
by April Hutchinson
The Relais Henley is set to open this month following the completion of a renovation led by international hotelier Grace Leo.
The entrepreneur took over the hotel during 2020 and is preparing to launch the riverside property before the famous annual Royal Regatta, the famous rowing event that takes place in Henley-on-Thames, slated for 11–15 August this year.
The project has seen the conversion of The Red Lion, a 16th-century coaching inn, into a hotel with 40 rooms, said to be "havens of calm and well-being, taking inspiration from Henley's rowing tradition and the natural beauty of the Chiltern Hills".
"When the chance to purchase The Red Lion arose, I could immediately see the opportunity to transform the heritage property into an elegant riverside retreat – one that would become a retreat from the city as well as a stylish and convivial meeting place for the residents of Henley," said Leo.
The hotel will feature The Clipper Restaurant, an all-day dining restaurant by Mosimann's London with courtyard dining.
The Quarterdeck Bar, found in the oldest part of the hotel, will serve local craft beers and artisan gins against a backdrop of vintage photography of the regatta, while another option will be The Deli, which will also be able to arrange picnics for excursions on the river.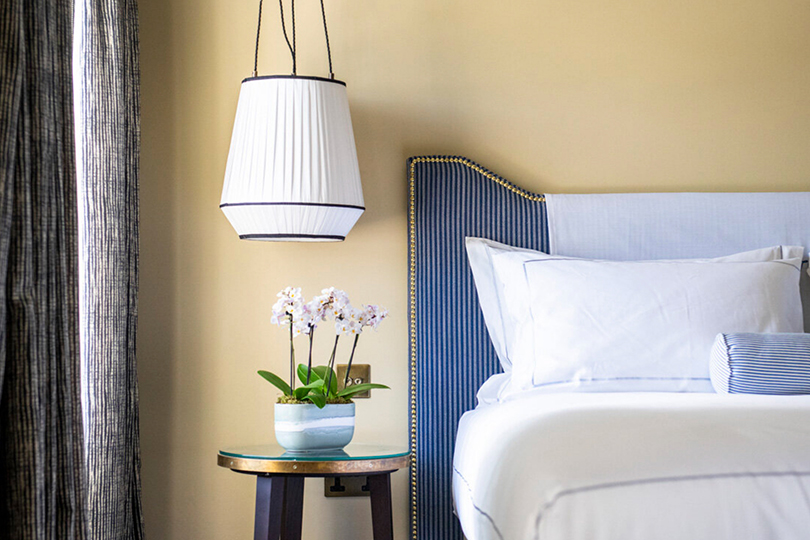 "Henley-on-Thames is a pedigree town which most people only know for The Royal Regatta and yet, there is always something going on; the town has a rare combination of things that attract people to live here as well as to visit," added Leo.
Another element of the hotel will be The Palm Court, designated as a space for co-working and meeting, with "a more dramatic setting" and design influenced by the silk route. Leo said a new membership concept will be introduced there from September.
The hotel has played host to royalty and nobility, including King Charles I, whose Royal Coat of Arms is preserved over the fireplace in the room he stayed in.
The First Duke of Marlborough stayed whilst on his way to Blenheim Palace; Grace Kelly visited during the regatta in 1947; and poet William Shenstone,carved a poem into a pane of glass with a diamond in 1750.
Under her new company Relais Retreats – established as "a new brand of English waterside escapes" – Leo and co-investor Tim Hartnoll are also working on The Cooden Beach Hotel on the East Sussex coast, which will undergo a winter renovation and refurbishment programme, becoming The Relais Cooden Beach in spring 2022.
Rooms at the hotel start from £300 per night, including breakfast from mid-July.