In the spotlight: CoCo, Art Villas, Costa Rica
12 Jan 2021
by April Hutchinson
In the first of a new series, we highlight a hotel project that's caught our eye – first up, five pods in the Costa Rican jungle.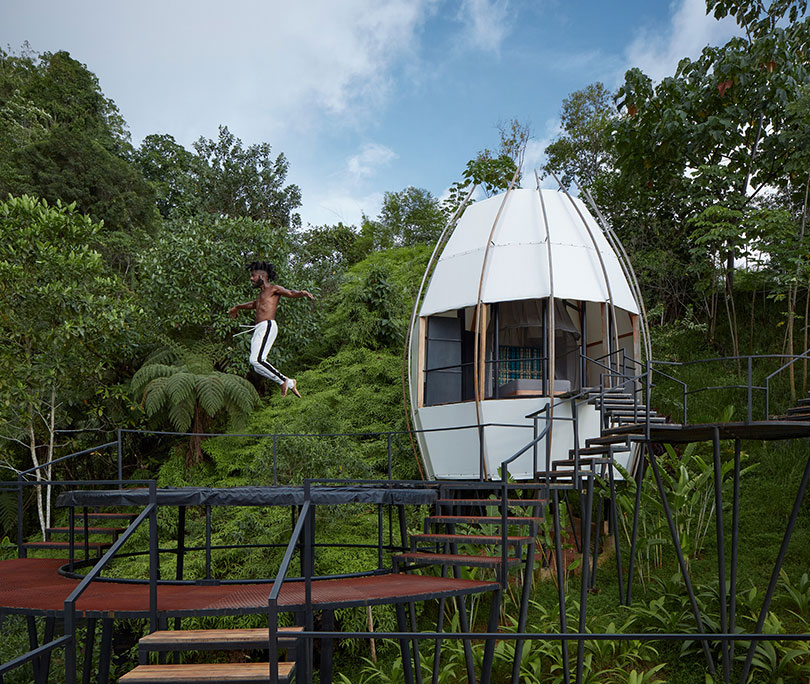 An unusual new option has landed in Costa Rica, in the form of CoCo, featuring five egg-shaped structures evoking a playful glamping-type option.
Focused on sustainable architecture hidden in the jungle, the 'eggs', form a part of Art Villas Resort, which sits on a steep 2.5-hectare jungle slope above Hermosa Beach, near the town of Uvita.
The owner of Art Villas asked architects Archwerk to create "a design that no one had seen before"; the result, they say, is "a nest of several shelters located on a fall overlooking the valley".
The interior design is by Formafatal, with everything kept minimal so as not to argue with the incredible nature around and the unique structure of the pods.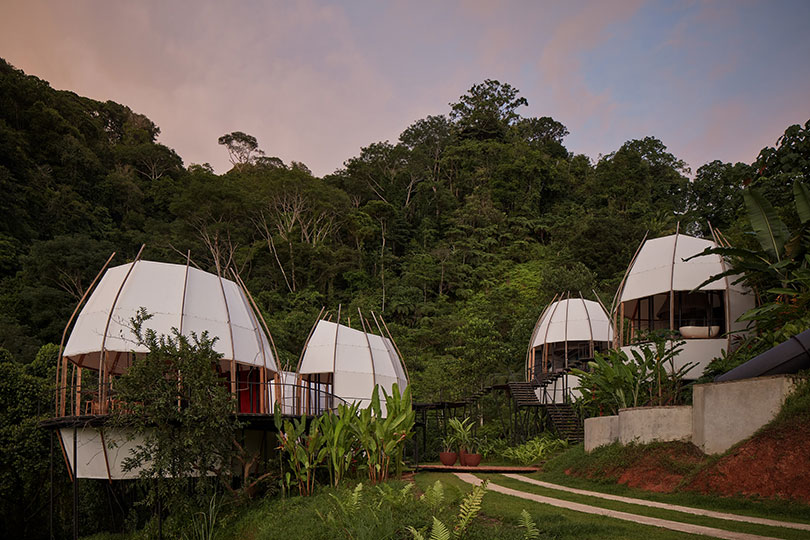 As Formafatal says, "you will not find anything unnecessary there, but at the same time nothing is missing".
The focal point of each CoCo bedroom is a bed that sits on a raised part of the floor, with the layout in each cabin designed to take advantage of the most breathtaking views, where monkeys and toucans can be seen directly from the bed (fear not –there is a huge mosquito net as well).
The team also sensitively connected the pods with footbridges and stairs made of wood and expanded metal, which are mounted on steel columns.
The platforms even serve as stopping points for views of the countryside, or a quick jump on a trampoline on one of the landings.
In the largest CoCo pod there is a shared kitchen with dining area and a striking red wall hiding two refrigerators, two freezers and food cabinets.
The kitchen island serves for meal preparation and offers plenty of storage space for all dishes. The dining table is a visual continuation of the island, set in a way as to draw guests' eye to the Pacific beyond, perhaps as they sit on the locally-made wicker furniture.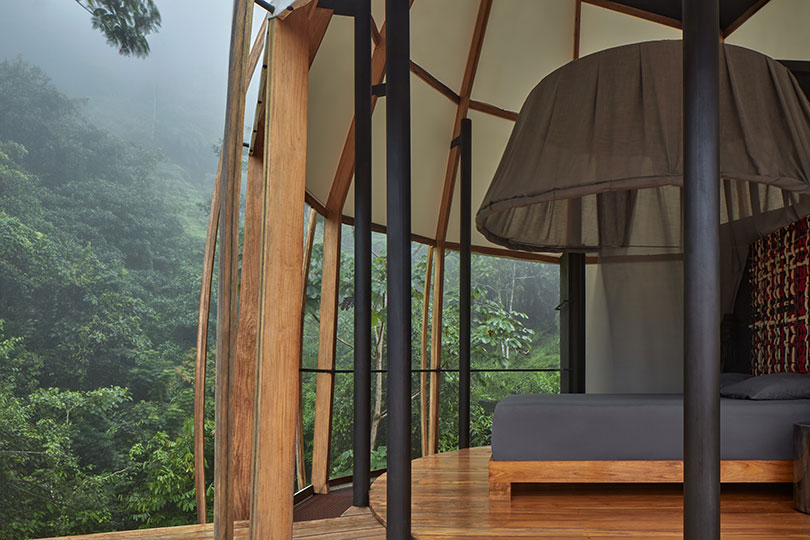 Owner Filip Zak admits a stay at CoCo will be "an experience for the brave", but he hopes people are as in love with nature as he is, and share his fascination for tree houses.
The pods are exposed to nature and the elements; rain only falls six months of the year and in late afternoon cascades, and when a storm hits, it can be a dramatic and unforgettable experience – if it does start to pelt down however, transparent and white shutters protect the interior from rain and wind while allowing daylight to penetrate.
"Since I was a young boy, I've been fascinated with treehouses. Very little of what I saw when researching though fit my taste, until I discovered a Taschen book about treehouses and discovered French designer Benoit Fray," says Zak. "His concept behind treehouses in Switzerland is, to say the least, extraordinary; Fray was unavailable for this project, so thus began my search for the world's best architects who specialize in wood and that led me to Archwerk, this small team of architects from Czech Republic. The trees on our property are not fully grown, but I wanted the pods to nestle over and amid vegetation to give the feeling of being on top of the trees."
Art Villas Resort also features three bold villas, each with a distinct architectural design, and this next stage seems like the right kind of evolution for our times. "I love variety, and sensed that the three brilliant architects I chose could bring my visions to life," says Zak. "There is a space for everyone here now: Art Villa is luxury. Atelier is design. CoCo is an experience for the bold. The one unifying element is eclectic minimalism."